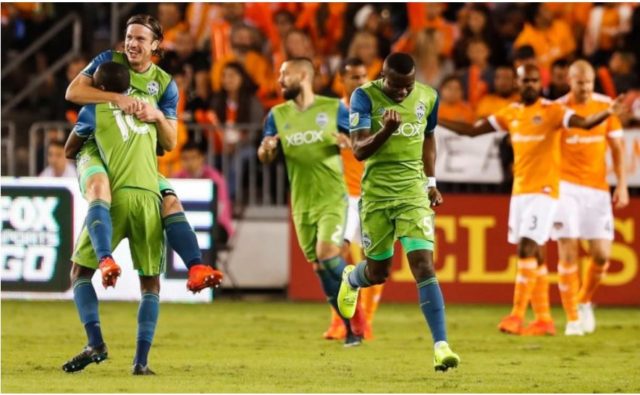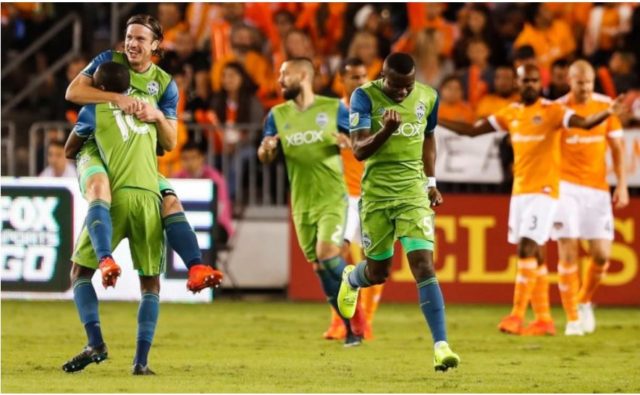 Your reigning MLS Champs stop the Dynamo in the 1st leg of the Western Conference Finals, Sounders win 2-0
Not even WWE superstar Booker T could help the Dynamo against the Sounders tonight. The  Rave Green would bring the Houston squad down to earth with a 2-0 defeat showing why they are the reigning MLS champs. The lopsided victory would be predicated on an energetic and enthusiastic Seattle side that outplayed Houston in every phase of the game, alerting the Dynamo to the harsh reality of where their place is as an underdog.
Can you dig it?

We've got a couple of *big* Dynamo fans out tonight! #ForHoustonForever pic.twitter.com/R8T7ebDFoe

— Houston Dynamo (@HoustonDynamo) November 22, 2017
The Sounders would have to win this game without All-MLS superstar goalkeeper Stefan Frei. Frei injured his right hamstring in training and would be replaced by Tyler Miller. Miller would perform admirably with a clean sheet, knocking away all 3 shots on target.
"If it was an MLS Cup final, I would have played him," Sounders coach Brian Schmetzer said. "But I'm not going to take a risk and have him do something worse in the first game of a two-legged series."
The Sounders Gustav Svensson would start the party by heading in a Nicolas Lodiero corner kick in the 11th minute to give the Rave Green the lead.  A 42nd minute goal would be the 2nd dagger in the Houston's heart, this time by a former Dynamo himself, Will Bruin who found net after a Joevin Jones cross.
"Hopefully, we're just going to go for it, and show our fans that we want more," Svensson matter-of-factly told MLSsoccer.com when asked about his team's mindset for the second leg. "At the same time, we have 2-0, so we can't be too stupid. But hopefully we go for it."
Goals from Gustav Svensson and Will Bruin have your Sounders leading the Dynamo 2-0 in Leg 1!#DefendOurCup pic.twitter.com/Ui5MnfbikC

— Seattle Sounders FC (@SoundersFC) November 22, 2017
Seattle had not won in nine previous visits to Houston and the two goal lead means that Houston will have to win by 2 goals in Seattle (a place they have never won.  Houston will have to do it without Alberth Elis who earned a yellow card accumulation suspension and Anababa who earned a red card on a breakaway.
Feel free to comment below if you have something to say and be sure to join the SSU community by liking us at Facebook at SeattleSportsUnion.
Follow us during games on Twitter @SeattleSportsU and watch us Sundays at 8:00pm (PST) on YouTube, as we discuss all things Seattle sports.