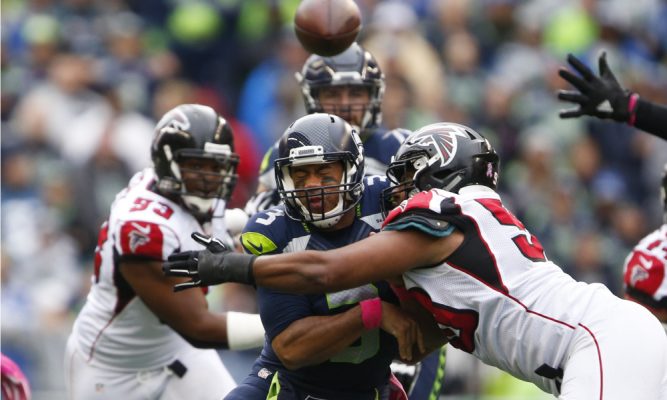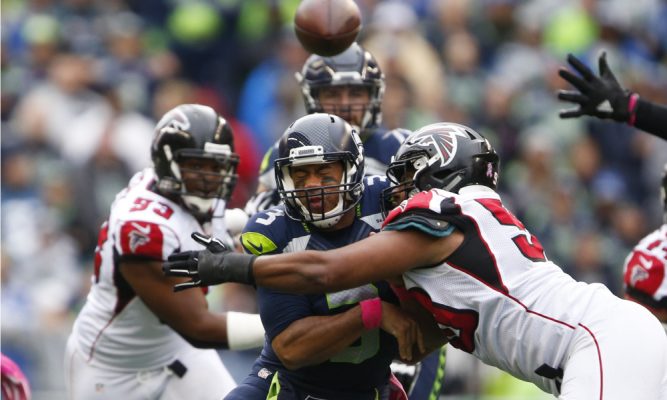 Wounded Hawks host sputtering Falcons on Monday Night Football
Monday night the Seattle Seahawks and their walking wounded take on a disappointing Atlanta Falcons in a bout that will push one team into their division race, and send the loser into panic mode. The Seahawks are a 1/2 game back from the Rams and the Falcons are a 5-4 and desperately trying to stay in the Wild Card race. This is as big of a game as we can have this early in the season and we will get to see it in prime time.
When Seattle is on offense
There is no way around it, but the Seahawks are a pass 1st team. The Seahawks will air the ball out to set up the run. Russell Wilson and the receiving corps are the #3 ranked pass offense in football and average 262 yards per game.
Unfortunately, the Seahawks offensive line has taken aback by injury. Guard Luke Jockiel and left tackle Duane Brown may not be available to for this game leaving an opportunity for Atlanta's Vic Beasley and Adrian Clayborn to run loose on the pass rush.
To counter the rush, the Seahawks have called up running back Mike Davis from the practice squad. The city is a buzz for the new guy; however, as poor as the blocking has been all season, we shouldnt get too excited. The best option will be the read zone that allows Seattle's leading rusher, Russell Wilson, the option to run/pass.
When Seattle is on defense
The Legion of Boom, has become the Legion of Whom? Richard Sherman, Earl Thomas, and Kam Chancellor are all injured. Expect the Falcons' Matt Ryan to put the ball in the air. The Hawks will need DBs Shaquille Griffin, Jeremy Lane, and Byron Maxwell to come up big.
More importantly, defensive coordinator Kris Richard will need to game plan the heck out of this game and put his players in position to succeed. Changes will need to be made to account for the talent drop-off, and we will see if the Seahawks have it in them to do so.
Key to the game
The Falcon's RB, Tevon Coleman is the key to this game. We know that the Falcons will throw the ball, however, the Sehawks need to stop Coleman and his 4.8 yard per run average. If the Falcons become 2 dimensional on offense, then this game will get away from the Hawks.
SSU Prediction
The Hawks get exposed without the Legion of Boom in a shootout. Falcons win 33-30.  We can always hope though.
Feel free to comment below if you have something to say and be sure to join the SSU community by liking us at Facebook at SeattleSportsUnion.
Follow us during games on Twitter @SeattleSportsU and watch us Sundays at 8:00pm (PST) on YouTube, as we discuss all things Seattle sports.