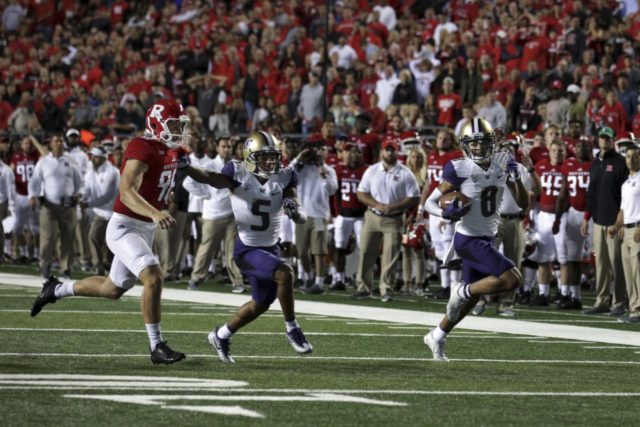 Wasn't easy but Dante Pettis and the #8 Huskies stop Rutgers 30-14
Hand it to the Rutgers Scarlet Knights, they punched the Washington Huskies square in the mouth and made the expected squash match into an interesting battle. For much of the 1st half, Rutgers attacked the middle of the line with dive plays to take advantage of the missing UW linebacker Azeem Victor. In fact they would take the lead 7-0 until the Huskies finally woke up and played their won game.
Watch: Dante Pettis ties the Pac-12 record with his sixth career punt return touchdown.#PurpleReign pic.twitter.com/Jl8GO9U4jR

— Washington Football (@UW_Football) September 2, 2017
Down 7-3 with 3:50 left in the 1st half, the Huskies wide reciever Dante Pettis fielded a punt and returned it 61 yards for paydirt to give the dawgs a 10-7 lead. The senior tied Former Cal Bear DeSean Jackson's Pac-12 record of 12 career punt returns for TDs, inspiring the Huskies to victory.
"Whenever a punter is backed up for some reason they always boom the ball, so he kicked it 55, 60 yards or something," Pettis said. "I misjudged it a little bit, and then dropped it, didn't really panic, looked straight up the field and my guys did a great job of just clearing everybody out."
Jake Browning would have a really rough day as he would go just 17-30 on the day. He did get 284 yards and 2 TDs, however, it seemed Rutgers had a game plan set to fluster him. His counterpart, Louisville transfer Kyle BOlin went 24-34 and scored 2 TDs. Luckily, the Dawgs flustered him, and picked off two passes.
Rutgers outplayed he Huskies in the 1st half and the final numbers show a tale of 2 halves as the Dawgs eventually got it in gear in the 2nd half. Upsettingly, the Purple and Gold were outrushed by a total of 131-84. However, Pettis' heroics would turn the tide and give the Dawgs the confidence to make some plays. He would follow up the TD run with a 51 and 24 yard catch to keep this offense going.
"I think any explosive plays get the sideline going, gets everybody feeling good about what going on," said Pettis, who also returned a punt for a touchdown against Rutgers last season. "So it doesn't matter if it's a long run, catch, whatever. I think any time there's a big play it's good for us."
Watch: Highlights from Washington's season-opening victory over Rutgers on the road. #PurpleReign pic.twitter.com/wKxh5dV4t0

— Washington Football (@UW_Football) September 2, 2017
Feel free to comment below if you have something to say and be sure to join the SSU community by liking us at Facebook at SeattleSportsUnion.
Follow us during games on Twitter @SeattleSportsU and watch us Sundays at 8:00pm (PST) on YouTube, as we discuss all things Seattle sports.