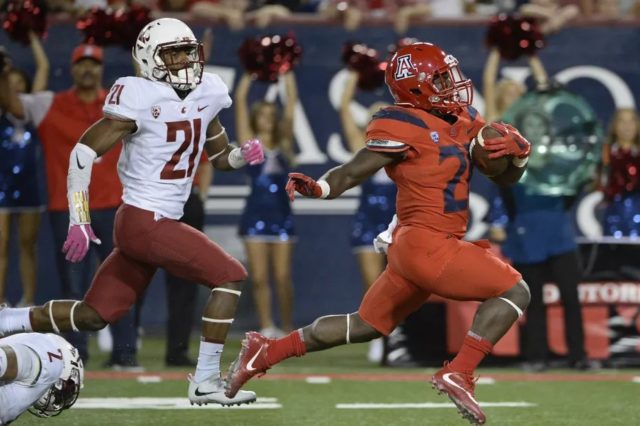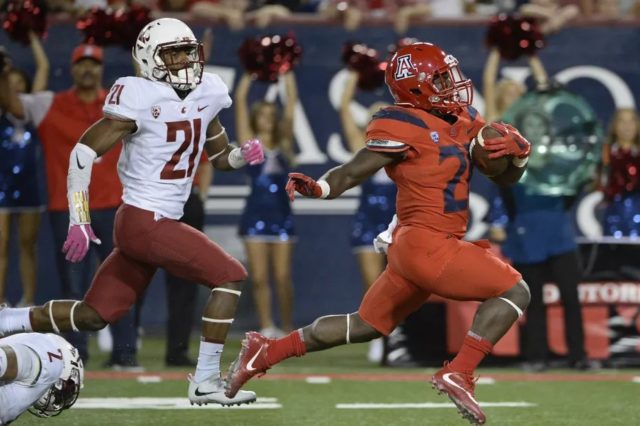 Washington State's "Speed D" Breaks Down as they Have no Answers for Khalil Tate and the Arizona Wildcats!
Saturday night in the dessert was a wild one as the Washington State Cougars came to town with one thing on their minds, to stop Arizona's high-powered offense and get their eighth win of the season.  They failed to meet any of their expectations as they fell to Arizona 58-37, despite outgaining them in yardage, doubling the amount of offensive plays, yet they failed at the most important stat of winning the ballgame.
In the first half, Cougar QB looked unfocused as he had trouble getting the offense out of the gate.  He was all over the place.  On defense, the "Speed D" did their best to hold the Wildcats in check, but they gave up big play after big play.  QB Khalil Tate looked like an All-American out on the field.  When the Cougs stopped them on the ground, he threw for huge yardage and several scores.  When the defense was anticipating the pass, Khalil Tate and his running backs ran by our line for several big plays.  All season, the "Speed-D" had given up 8 plays of 20 yards or more.  Saturday night they gave up 9 plays of 20 yards or more, including several runs of over 50 plus yards.  The players on Arizona were extremely faster than Wazzu's defense, showing it almost every drive of the ballgame.
Speed kills 👋 This 82 yard run was our longest play of the year. #BearDown #HardEdge pic.twitter.com/sIwD4jGhuM

— Arizona Football (@ArizonaFBall) October 29, 2017
Near the end of the half, Arizona was up 20-7 and coach Mike Leach sent in his backup quarterback Tyler Hilinski.  He preceded to drive the field and cut the deficit to 20-14 with seconds left in the half.  The Cougs kicked off and let the returner of Arizona bring it almost all the way back.  With one second on the clock, the kicker preceded to kick a 57-yard field goal as Arizona went to the locker room with a 23-14 lead.
In the 2nd half we saw Luke Falk stay on the bench for the Cougars as Tyler Hilinski came back in to the ballgame.  It was the best choice for the club.  Luke just didn't have it tonight, it felt like the Cal game from 2-weeks ago.  Maybe if Tyler Hilinski came in earlier in that ballgame, it might have been a different outcome.  Either way, Tyler played an amazing 2nd half and threw for over 500 yards in a little over 2 quarters of football.  If it weren't for his turnovers, and the defense giving up 5 touchdowns in the 2nd half, 4 on big plays and one pick six for Arizona, it might have been closer.
Don't get me wrong, they had problems with special teams, wide receivers running incorrect routes and dropping several balls and let's not forget, quarterback confusion with Luke Falk forgetting who he was, and an inexperience quarterback with a high ceiling ahead of him but he made lots of costly mistakes. But Wazzu lost this ballgame due to perhaps the worst performance by Coach Grinch's defense in his 3 years with the club.
My 3 observations
Is there a quarterback controversy?
There should not be a quarterback controversy.  This is Luke Falk's team and he deserves to start the final 3 games and whatever bowl game they get to go to.  He can't continue to do what he's doing though.  Luke's last two road starts, both losses, he's been awful.  He is supposed to be the leader out on the field and on the sidelines, but he's looked lost.  Coach Leach kept him in too long for the Cal game, but he pulled him Saturday night at the right time and I stand behind his decision.
Despite Tyler Hilinski's 4 turnovers, he produced on the field; Luke had no such luck.  Had there not been a muffed punt by Arizona which lead to a quick Wazzu score, Luke would have produced zero points on the scoreboard.  What needs to happen is that he needs to be put on a short leash.  WSU is  a better team than both our losses showed during the month of October.
If Luke is hurt (which wouldn't surprise me if he was from all the hits he's taken this season) than Coach Leach needs to stop playing him.  Forget the records, forget that it's his senior year and he's the greatest quarterback in Cougar history. If Luke is hurt, it affects the play of Wazzu, he needs to sit. The season is still salvageable and we can't afford to lose momentum with the amazing program Coach Leach has brought to Pullman.
Check out the juke move by Hilinski on this scramble!#GoCougs pic.twitter.com/BmM6OLL4tI

— WSU Cougar Football (@wsucougfb) October 29, 2017
Is the "Speed D" finished?
I believe this is a talented defense, but California and Arizona exposed major holes.  I can't pin it all on the players, or bad play calling by Coach Grinch, but they have been exploited and they need to sort it out soon. Now that holes have been discovered, the staff needs to adjust and put the players in a position to succeed.  Up next is Stanford before they hit the road to face Utah and University of Washington all brutal opponents who can beat up on this ballclub if something doesn't happen.
Four straight games with 100 yards rushing for Khalil Tate, and he did it in style. pic.twitter.com/cPIlf14YRE

— Arizona Football (@ArizonaFBall) October 29, 2017
Can the wideouts pull it together and finish out the season strong?
The numbers were there, the yards were there, and the touchdowns were there.  But we also must factor in the numerous dropped passes, the incorrect routes run by several wide-outs and nobody standing out except for one wideout.  Welcome back Tavares Martin Jr.  He came to play and made some amazing catches.  It's been difficult season for this group.  Luke Falk had amazing group of wideouts over his career at Wazzu.   This year has been a challenge with 3 games left on the schedule.  For them to succeed, mistakes need to lessen and more need to be consistent.
A look at the Touchdown for Washington State! #GoCougs pic.twitter.com/34q7iYV0nC

— WSU Cougar Football (@wsucougfb) October 29, 2017
Up next is the Stanford Cardinals next Saturday November the 4th at 12:30pm in front of a sell-out crowd celebrating "Dad's Weekend" in Pullman.  Stanford currently leads the Pac 12 north by 1 game.  Washington State has a challenge on their hands as they face one of the top running backs in the country Bryce Love.  Which team will show up and who will be quarterbacking the Cougs?  Tune in this Saturday on and support our team Cougar Nation!!  I know I will be watching.
Go Cougs!!
Looking forward to being back home in Martin Stadium to take on Stanford this Saturday! #GoCougs pic.twitter.com/L6cMIVytit

— WSU Cougar Football (@wsucougfb) October 29, 2017
Feel free to comment below if you have something to say and be sure to join the SSU community by liking us at Facebook at SeattleSportsUnion.
Follow us during games on Twitter @SeattleSportsU and watch us Sundays at 8:00pm (PST) on YouTube, as we discuss all things Seattle sports.