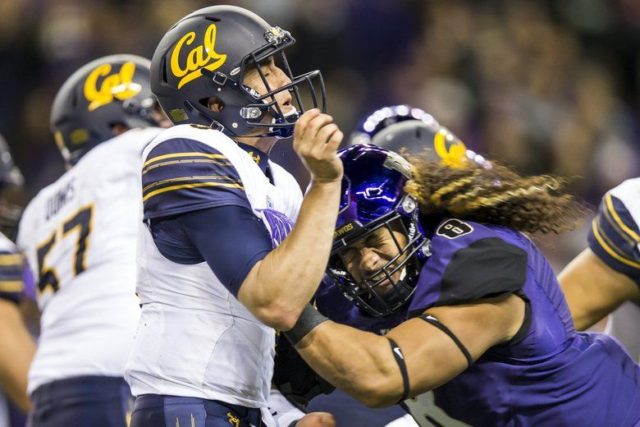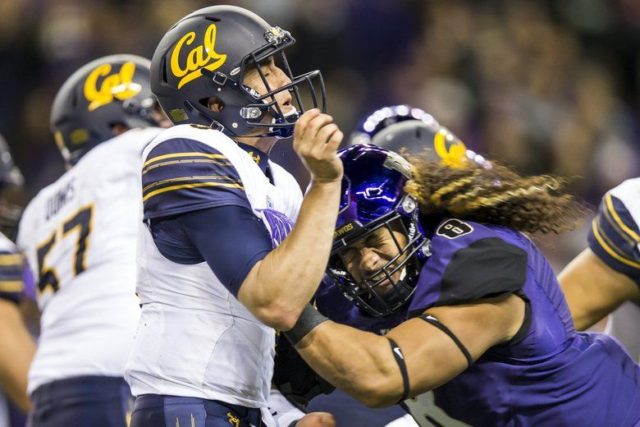 UW Huskies take on ESPN…er Cal Bears, defeating them 38-7
With 24 points in the 1st half, this game was never in doubt as the Washington Huskies demolish the California Golden Bears 38-7. In another late start, 67,429 showed up in attendance to see the 97th meeting between these teams.
The Husky defense was smothering and that may be an understatement. Cal managed a mere 93 yards. No there is no integer missing that total, UW kept Cal to just 133 yards passing and a -40 yards rushing. In the Pac-12, UW now ranks #1 in scoring defense (10.2 ppg) and #1 in total defense (228 ypg).
It was the defense in pressure situations that impressed the most though. The Huskies defense kept Cal to 4-14 on 3rd preventing the potent passing game from coming alive. With 7 sacks, including 2 by Tevis Bartlett, the Bears couldn't get any momentum going.
The Huskies may have found a new weapon in the passing game in freshman Hunter Bryant. Bryant had 9 catches for 121 yards and a touchdown. Bryant is exactly the compliment that has been needed this season to help out an over worked Dante Pettis. Pettis did get 10 receptions but, the emergence of Bryant will help get Pettis get loose in the passing game.

"There's always that adjustment period where you're not sure. A player is really good in high school but something doesn't click," Washington quarterback Jake Browning said. "But it definitely clicks for him."
The game was the background a larger story in which earlier this week, UW head coach Chris Petersen voiced his displeasure on behalf of the team and the fans for the 5 and 7pm starts. ESPN coverage took pot shots at the Husky schedule referring to the Huskies soft for playing a cupcake schedule.
In case you wanted to see the cupcake schedule thing for yourself: pic.twitter.com/U5RXEqwRDi

— Kevin Shockey (@KevinShockey) October 8, 2017
Pac-12 commissioner Larry Scott lent his opinion to this situation.
"The night games rate better than the day games," Scott said. "So what tends to happen is, the better you do the more attractive you are for TV and the more you're going to get scheduled in the night."
The fun did not end as ESPN's Kirk Herbstreit would take another dig at UW.  Is this the beginning of an ESPN vs UW war?  Stay tuned!
Kirk Herbstreit says Washington "should be thanking ESPN" for airing Washington games, regardless of kickoff time https://t.co/54Hu34AA1N pic.twitter.com/w8l6TsSzde

— Deadspin (@Deadspin) October 7, 2017
Feel free to comment below if you have something to say and be sure to join the SSU community by liking us at Facebook at SeattleSportsUnion.
Follow us during games on Twitter @SeattleSportsU and watch us Sundays at 8:00pm (PST) on YouTube, as we discuss all things Seattle sports.