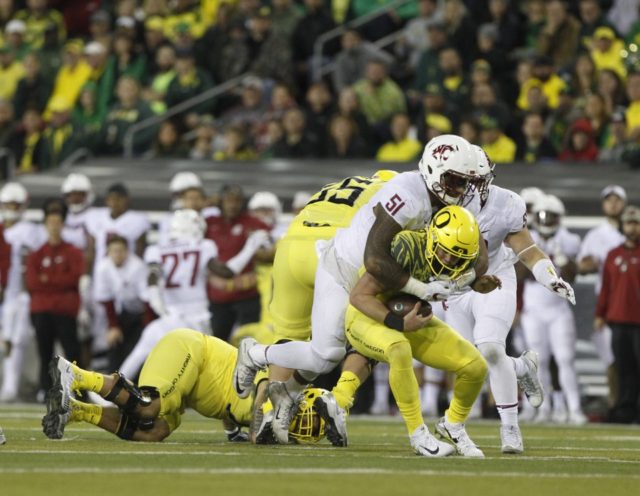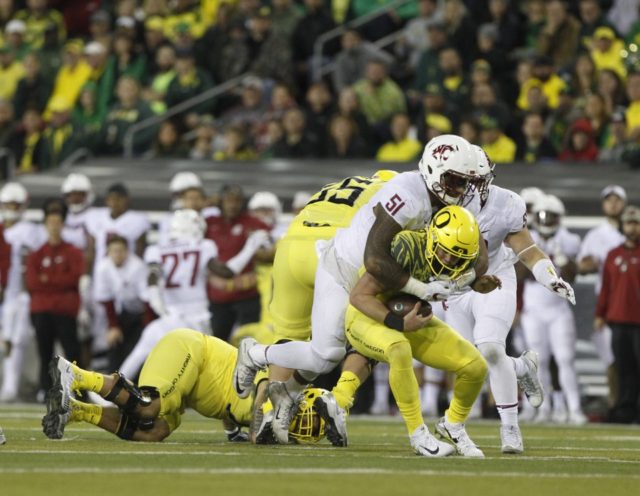 Undefeated #11 Cougars put Ducks to rest, 33-10
Luke Falk and the #11 Washington State Cougars marched into Eugene and used a 26 point unanswered points to blow the Oregon Ducks out of the water 33-10. Going to 6-0 on the season the Cougars pushed Oregon out of relevancy in the Pac-12 north, secure bowl bid eligibility, and keep pace with the UW Huskies for the lead.
"One thing we can't think about is being bowl eligible," linebacker Hunter Dale said. "We can't get comfortable. We have to keep winning one week at a time. We also have to listen to our coaches and not the outside noise."
Oregon would use a bit of deception obscuring who their QB would be but it would be the Wazzu QB who would win the day. Oregon QB Justin Hebert started the season for the Ducks but would suffered a broken collarbone forcing Oregon to look elsewhere for help. Using a bit of subterfuge, the Ducks unveiled freshman Braxton Burmeister who would put together one good quarter but finish with just 145 yards, 1 td, and 2 interceptions against the swarming Wazzu defense.
Luke Falk however, would put in a typical solid performance with 282 yards and 3 touchdowns. This was in the wake of a 4 sack game performance by the Oregon defense. But ultimately, Falk would come through when necessary, and send the 56,653 Duck faithful home with a loss. Falk is now #3 in the Pac-12 in passing efficiency, #2 in passing yards per game, and #1 in passing TDs.
The Cougar defense though deserves the lion's share of the credit as they held the #1 scoring offense in the Pac-12 (43 ppg) to a mere 10 points. Oregon has lit up score boards as is typical for them, however, this day would see the Cougar defense drop the Ducks to just 277 yards while terrorizing the Ducks with 4 sacks and 10 tackles for a loss.
Safety Hunter Dale would be the key to the defense as he tallied 10 total tackles, 3 tackles for a loss, 1 sack, and a forced fumble.
"We came into this game thinking they weren't going to run their quarterback a lot, because they were almost down to their third quarterback," WSU Hunter Dale said. So, we knew they were going to give the ball to Royce Freeman or their faster guys a lot. We had to prepare for that."
Feel free to comment below if you have something to say and be sure to join the SSU community by liking us at Facebook at SeattleSportsUnion.
Follow us during games on Twitter @SeattleSportsU and watch us Sundays at 8:00pm (PST) on YouTube, as we discuss all things Seattle sports.