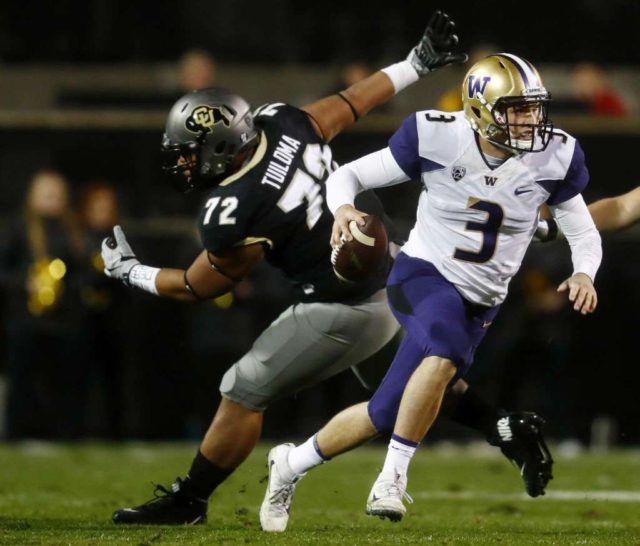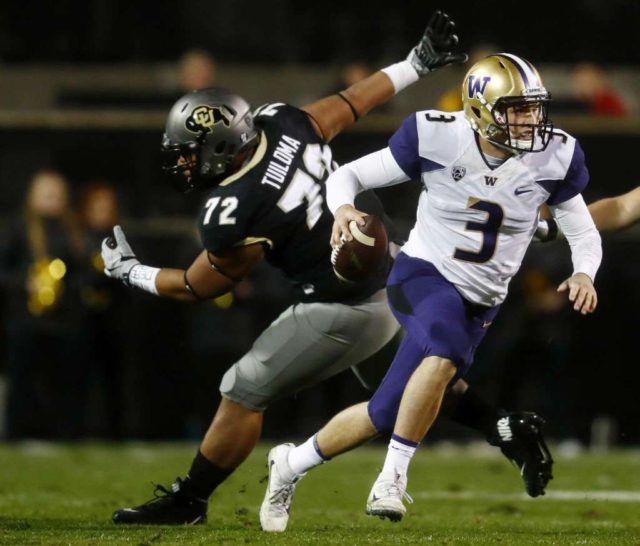 Three Husky interceptions lead to 37-10 win over Buffs
The University of Washington Huskies and Colorado Buffalo fans were stung with an epic failure by Fox Sports 1 as much of the 1st quarter was unviewable by die-hard fans. Required to hunt for some mythical TV channel, FS1 infuriated regional sports fans with their ineptitude by preempting the game for over a 1/2 an hour.
Viewers were robbed of a nail-biter of a close game that built drama and could potentially set the table for story of this UW team over the course of the season. UW would get punched in the face with an early 1st quarter touchdown. The Buffs drove 75 yards on 11 plays, capped with a Phillip Lindsay goal-line rushing score.
Key to the game
While there would be 3 interceptions, the key to the game was a blocked punt. 5 minutes into the 2nd quarter, Husky fans were pleased to see the Buffs punter's boot blocked recovered by UW  Levi Onwuzurike at the 12 yard line. Just a few plays later, the Dawgs would tie the game at 7 with  RB Myles Gaskin rushing for paydirt.
WOOF! BLOCK!

Watch on FS1. #PurpleReign pic.twitter.com/y7Nqi7Vq9s

— Washington Football (@UW_Football) September 24, 2017
Interceptions galore
Interceptions were the name of this game as 3 passes by Steven Montez were picked off. The sophomore QB was taken aback by UW's Jordan Miller who had two first-half interceptions, and then Myles Bryant who took a 35-yard interception return for a touchdown to put UW's lead to 24-10 entering the fourth quarter.
PICK-6!#SoundTheSiren #PurpleReign pic.twitter.com/wABRz5JHXk

— Washington Football (@UW_Football) September 24, 2017
Gas in his can
Myles Gaskin was relied on heavily to push the narrative today.  With backfield co-hort Lavon Colemen out with injury, Gaskin responded with a career high of 202 yards. While early on the Huskies were stymied by the Buff's defense, ultimately power won in the end as the UW offensive line ground down the defense and Gaskin did the rest.
Myles Gaskin to the 🏠!#PurpleReign

Watch on FS1. pic.twitter.com/UhQerVoY3D

— Washington Football (@UW_Football) September 24, 2017
Feel free to comment below if you have something to say and be sure to join the SSU community by liking us at Facebook at SeattleSportsUnion.
Follow us during games on Twitter @SeattleSportsU and watch us Sundays at 8:00pm (PST) on YouTube, as we discuss all things Seattle sports.