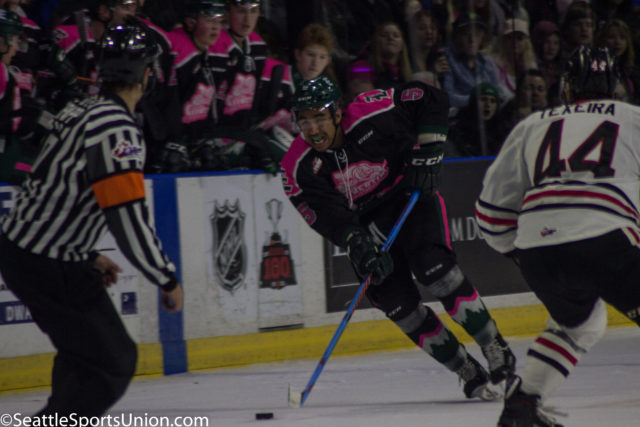 The gloves come off in more ways than one, in this fight against cancer
When it was all said and done the Silvertips lost 3-1 but they also raised $67,921 to help fight breast cancer in Everett's annual "Pink the Rink" battle. Every year for the past 9 seasons the crew at Xfinity dress the arena in pink to help raise money for breast cancer awareness month. Our hometown boys took to the ice decked out in pink and black but more than a few left black and blue in a very physical match.
Silvertip defender, Montana Onyebuchi (#5), raised more than awareness when his gloves came off midway through the game. As the crowd jumped to its feet, Onyebuchi and Portland Winterhawk's  John Ludvig (#15) traded punches before being sent to the penalty box. The 6'3, 200 lbs, seventeen year old landed with three uppercuts that gave Ludvig something to think about during his time there.
It also gave me something to think about. The crowd was cheering these "kids" on. I use the term kid loosely. He is easily a much larger man than I am but simultaneously, he is still in high school. This single thought makes me wonder if an arena is any better than a high school parking lot? I know fisticuffs is to hockey as concussions are to football but what makes the former more acceptable? It's like watching NASCAR for the wrecks.
What is that trait in human beings that longs for violence and destruction? Do fights have a place in a league where the majority of the players are still learning to drive and taking biology? My own daughter decided #5 (defenseman Montana Onyebuchi) was her new favorite player after seeing her first hockey fight ever. Great example. She's 13 years old.
The Silvertip may have lost in front of it's largest crowd of the year, 7887 fans to be exact, but they raised nearly $70,000. That's roughly $10.00 a fan. When it comes to community and teamwork, Silvertips country doesn't pull punches. Cancer impacts all of us somehow, directly or indirectly. These fans, this family showed that in the fight against cancer, the gloves are most definitely off.
I would call that a win.
Feel free to comment below if you have something to say and be sure to join the SSU community by liking us at Facebook at SeattleSportsUnion.
Follow us during games on Twitter @SeattleSportsU and watch us Sundays at 8:00pm (PST) on YouTube, as we discuss all things Seattle sports.