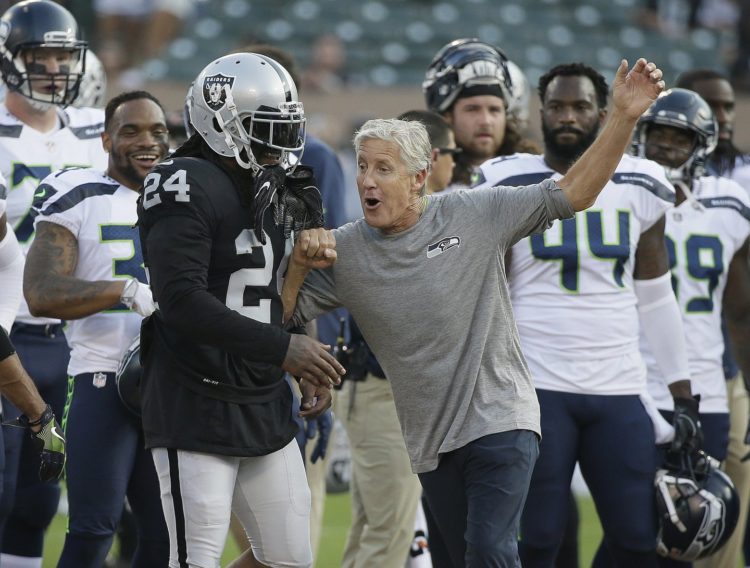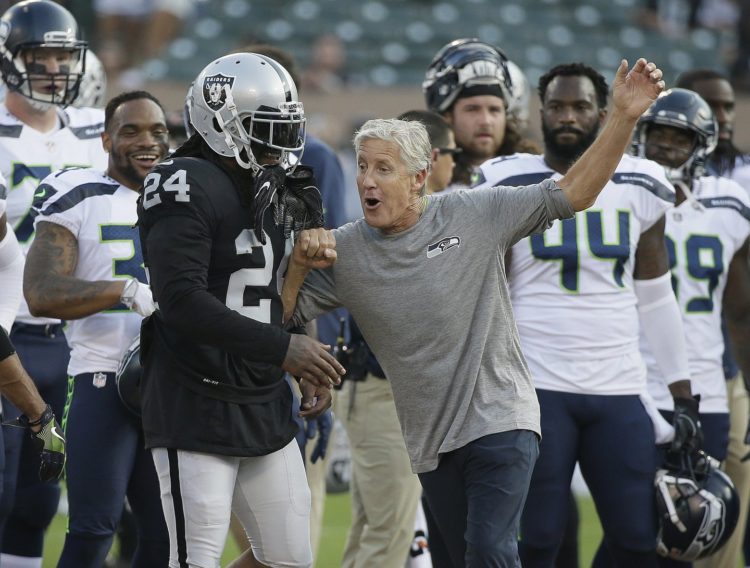 The preseason is over and the Seahawks went 4-0 after Seattle earned a late-game 17-13 victory over the Raiders Thursday night in Oakland. The team is pretty much healthy. They are ready. And they look to be taking football seriously at this point in the season. It's time for games that count. And it's time for another championship run.
As for the game against Oakland, the biggest news coming out of the contest is, did Austin Davis officially earn the backup QB roster spot? It's hard to argue that he didn't after throwing the game-winning, 16-yard TD pass to Kenny Lawler with 1:10 remaining on the clock. Especially when his primary competition, Trevone Boykin threw two passes to the Raiders and almost completed a third.
Davis completed 10 of 16 passes for 123 yards with the score. Boykin also threw an early 34-yard TD pass when the defender covering receiver Rodney Smith fell down. But after the game coach Pete Carroll expressed displeasure with the QB's apparent "carelessness" with the ball. Regardless of who wins the starting back-up roll, it would be best for Seattle if they really never see the field. Unless mop-up duty of course.
18 starters were held out of the contest including staring QB Russell Wilson.
Kasen Williams did play and caught two passes for 57 yards on three targets. Williams' play may expedite the exit of veteran receiver Jermaine Kearse who is rumored to be on the trade block.
C.J. Prosise saw action in the preseason for the first time as he ran the ball three times for five yards and caught one pass for three yards.
Most of the starting defense for Seattle failed to see the field including Michael Bennett, Richard Sherman and Cliff Avril.
Friendly face
Former Seahawks great and Super Bowl champion Marshawn Lynch was in uniform for the Raiders yet didn't play in the game. He did though sit through the national anthem. As well as did Michael Bennett once again.
Although the silver and black attire does suit Lynch's temperament as a bruising running back, it was strange to see him wearing it. He did not play in the game.
Next up
Now for the important stuff like, "Revenge!"
Seattle opens the regular season facing what is sure to be considered a Super Bowl contender in the Green Bay Packers. And once again Seattle travels to Green Bay, the site where the Seahawks suffered a humiliating 38-10 loss to Aaron Rodgers in week 14.
In that game Rodgers threw three TD passes. Seattle's signal caller Russell Wilson had his worst game as a pro as he tossed 5 passes to Packers defenders and was sacked three times.
Gametime is 1:25 Pacific.
Feel free to comment below if you have something to say and be sure to join the SSU community by liking us at Facebook at SeattleSportsUnion.
Follow us during games on Twitter @SeattleSportsU and watch us Sundays at 8:00pm (PST) on YouTube, as we discuss all things Seattle sports.