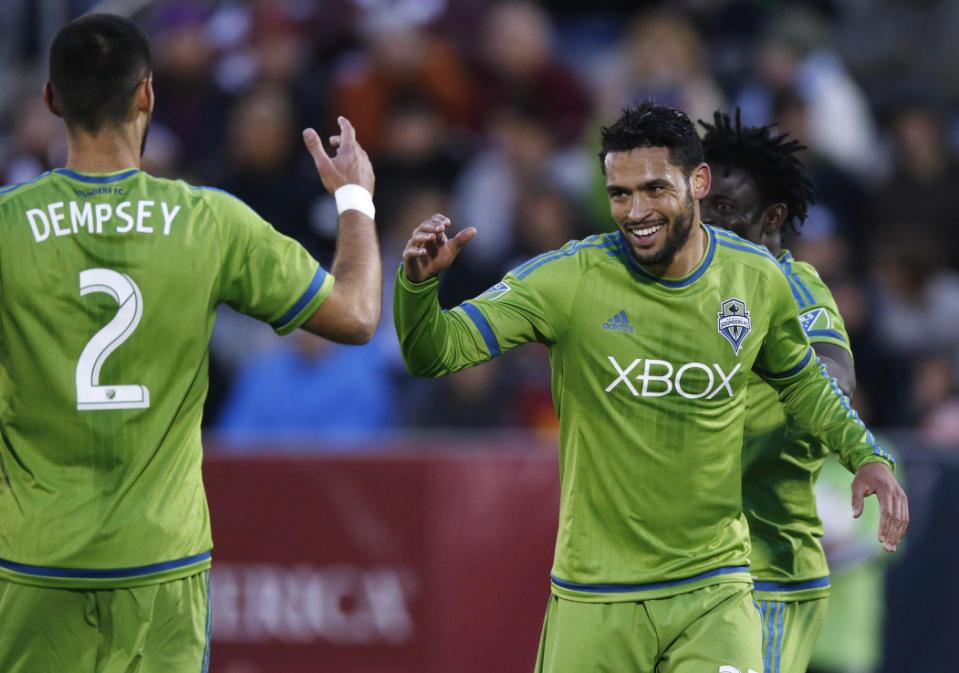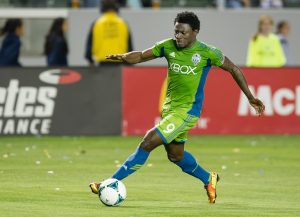 The Sounders rolled into Colorado like a team close to their first game form.  The Sounders pulled the 3-1 win recouping from the shocking loss last week,  where they dominated LA and couldn't squeeze a goal passed the well placed LA Galaxy keeper Jaime Penedo. Sounders' forward Lamar Neagle was looking to get the well-deserved goal that he missed last week.
Neagle's Spot
What is Neagle's spot? His spot is past the 18 yd. box and on the left hand side. He loves curling the ball to the back post or driving the ball into the upper 90 where it is out reach of the keeper. He continues to be deadly with his right foot from this location and the MLS keepers know it.
In Colorado, he took 6 more shots, 5 of them being on frame and 2 of them finding the back of the net. His first goal was in the 5th minute from his spot with a beautiful curling ball to the back post and thanks to deflection off of former Sounder James Riley in the 25th minute, Neagle was able to poke another ball in the net for his second goal of the season.
Oba One Kenobi
On Saturday Oba(femi Martins) proved once again that he needs little help to score. It all started with a great over the top pass from Rose and with an amazing touch with his heel, Oba put himself in perfect position to finish the play between 2 defenders.
At this point in the season, all scoring has been done between Oba, Clint, and Lamar, but they're going to need more scoring support from the midfielders. Right now, Pappa has been invisible on the offensive side and Rose is constantly fighting for starting minutes. Both Alonso and Pineda are more defensive-minded midfielders.
So where will that score support come from? Hopefully, we can find it before teams can shut down Oba and Clint.
Where's Remick?
I don't know if it was by design or if Sounders defender Dylan Remick was in his own world in the first half, but he was everywhere on the field… Except where he needed to be– and that was in correct defensive position more often. Sounders Boss, Sigi Schmid, likes to have his defenders move up the field and overlap the midfielders, but if they don't work well with each other than it can be disastrous for our defense and leave them a man short.
At one point, Remick was so close to midfielder Marco Pappa that he could have told us what flavored gum Pappa was chewing; later on, he was crowding the center of the box with Evans and Marshall. With Remick being all over the place the Rapids were able to find the holes in the Seattle defense.
Lets look at their 1 goal. How did it happen? Remick was playing pretty far up and left Marshall to defend Torres, but with Evans not defending the initial pass to Powers it forced Marshall to move up on Powers and leave Torres on the back post all alone in the hope that Remick would recover fast enough.
Unfortunately, Remick was too far up and tried to make up the distance on Torres by sliding in to get his foot on the ball, but was too late. In the second half, either Sigi asked Remick to pick better times to go up field or he came back to Earth. My guess is Sigi asked him to stay back more and it helped make the defense more solid on the Rapids counter attack.
Next Side Up
Cascadia Time!!! Portscum is coming to town. This should be an exciting match with the Sounders clicking on all cylinders and the Timbers always playing hard against the Sounders. So get ready for the smell of patchouli and homelessness hitting our beautiful mountain air, the greatest MLS Derby match is going to be a battle.
Feel free to comment below if you have something to say and be sure to join the SSU community by liking us at Facebook at SeattleSportsUnion.
Follow us during games on Twitter @SeattleSportsU and watch us Sundays at 8:00pm (PST) on YouTube, as we discuss all things Seattle sports.