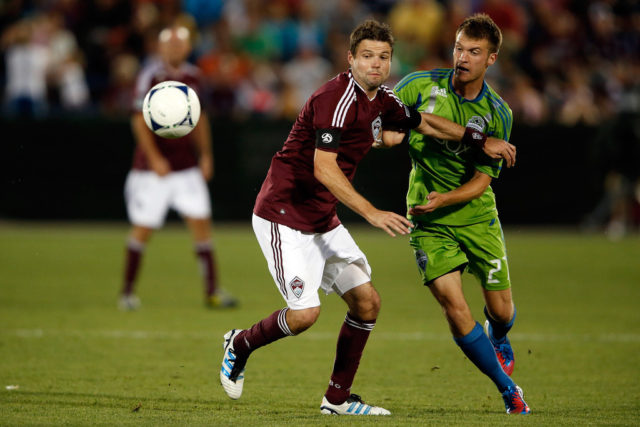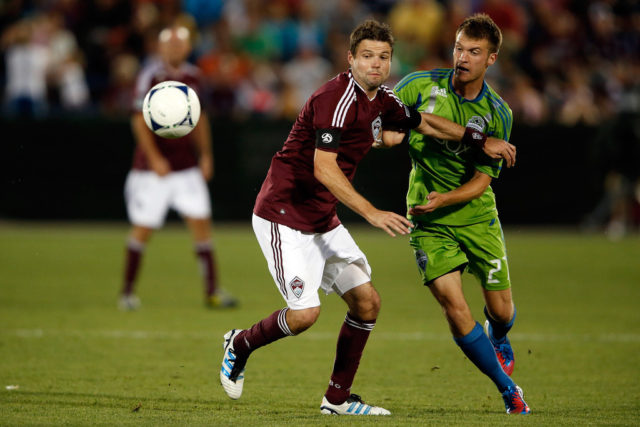 Sounders vs Rapids preview: Rave Green host Colorado for First Game of Conference Finals
Well folks guess what? I am back! But much more importantly so are the Sounders and MLS playoff football… er, soccer. So without further ado let me introduce myself and yourself to what is about to happen this the best week of the year!
Sounders FC will host the Evil Crimson Rapids from Commerce City, Colorado (the Colorado Rapids). Today is the 1st of 2 legs of a playoff series. The winner will advance to the MLS Cup on December 10th. Today's match is here in Seattle, and Sunday's followup leg will be in Colorado. The Rapids boast the second best record in the Western Conference and the league just barely missing the top spot this year. With the league's best defense they have a good foundation to rely on.
The Sounders boast perhaps the hottest streak in MLS since the momentous day in July when MLS newcomer of the year Nico Lodeiro arrived at the very moment that Sounders Patriarch and longtime head coach Sigi Schmid was let go. Since that day, the team that wears the Rave Green has earned a record of 10-3-4 (8-2-4 in the regular season); 2-1 in the playoffs with a knockout victory over Sporting KC and a 4-2 aggregate victory over FC Dallas (who eliminated Seattle last year in overtime penalty kicks).
So what should you watch for?
From Colorado you need to keep an eye on the cohesion of the midfield triumvirate of defensive mids Michael Azira, and Sam Cronin as they try to keep the game connected with advanced center mid Jermaine Jones. Jones is the ultimate wildcard in the entire MLS. He is as prone to red cards as he would be to a game changing hat-trick. If he is fit and healthy Colorado becomes a defensive juggernaut with the ability to break you down physically on the attack. Without his brilliance they are just a thuggish boorish, and boring opponent. If Colorado can keep the midfield trio working together they have some ability to counterattack and break Seattle's attack.
Also keep an eye on Sam Cronin as he will be tasked with trailing Nicolas Lodeiro. Good luck to him, since teams think that you can contain him by pushing him up the field and out wide. Nico is such a complete player that he is able to let the game come to him and will take advantage of the opportunity to use his prodigious passing skills to open the game up with pinpoint long passes and highly accurate crosses in to the attacking area.
Injures
How much will the injury keep Colorado from having cohesion and individual brilliance that is necessary on the game's biggest stage? They are going to be missing former Sounder Marco Pappa, who is an offensive force when healthy, as well as striker Shkelzen Gashi who is highly doubtful for the match today. USMNT Goalkeeper Tim Howard is out as well. His backup Zach McMath started the year as the top keeper for Colorado but has only played once since the beginning of July. I don't care how good you are, you will show some rust with that length of a layoff.
One last note on Jermaine Jones. He has been injured for months too. Since the Copa America tournament in July, he has played 1 match in the regular season for a mere 22 minutes; the very last one of the regular season. He played in both playoff matches vs. LA Galaxy and showed flashes of his former game-breaking form. But then he went to play in the 2 disastrous matches for the USMNT. In both losses Jones looked terrible. This was the worst form I have ever seen from Jones. He looked lost, and very much like a player who was not quite fit enough to do his thing.
Roster questions
From the Sounders side, the question of what to watch for is more simple. You should expect the Rave Green to possess the ball and be on the front foot while Colorado is content to sit back and look for the counter attacking opportunities that are sure to emerge in this match.
The Sounder lineup is a big big question mark for this match. The normal first choice lineup is unlikely to be available. This is because striker Jordan Morris, Midfielders Andreas Ivanschitz, and Alvaro Fernandez and defender Roman Torres are all listed as questionable. Now for some context. Ivanschitz has been practicing with the first team for weeks now. He should be fit and ready to start or have a key place as a tactical sub for some set piece brilliance. Roman Torres played a full 90 minutes for the Panamanian National Team this past week and should be good to start opposite Chad Marshall in the central defense.
One minor tactical note. The Sounders must be judicious in their crossing into the box. The Colorado backline is very very tall and very good at defending lofted crosses. Instead Seattle must mix up their crosses between those in the air and those hit hard on the ground through the "corridor of uncertainty" and trust that their will be attackers streaming into the box at the back and front posts.
The key questions revolve around who will be on the team sheet? Firstly– the starter at center forward? Rookie of the year Jordan Morris? Or will it be newly resurgent-playoff-wizard Nelson Valdez? Will Morris be healthy? Will the Sounder use both of them in the attack? At right midfield, is a host of options for Head Man Brian Schmetzer. Brad Evans has been a Swiss-Army-Knife for this team so far. Schmetzer has said that he wants Brad to be on the field at right mid. But… so far he has used Alvaro Fernandez there as well as Nico Lodeiro. So far in the recent past Seattle has used or could use Morris, Evans, Ivanschitz, Roldan, Friberg, Fernandez, Herc Gomez or Aaron Kovar (back from clavicle surgery) at either wide midfield position. So the lineup possibilities are endless really.
Best 11
Here is the best lineup that the Sounders can (should) field.
GK – Frei
Defenders-  Jones, Marshall, Torres, Mears
Midfielders Ivanschitz, Lodeiro, Kovar, Alonso, Roldan
Forward –  Valdez, Morris
SSU Prediction
With the injury to the Rapid's GK Howard, the Rave Green take this handily.  Seattle 2 Colorado 0.
Feel free to comment below if you have something to say and be sure to join the SSU community by liking us at Facebook at SeattleSportsUnion.
Follow us during games on Twitter @SeattleSportsU and watch us Sundays at 8:00pm (PST) on YouTube, as we discuss all things Seattle sports.