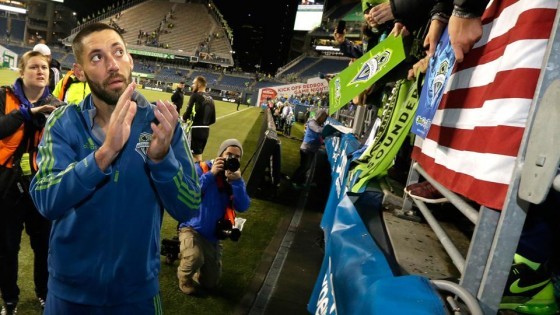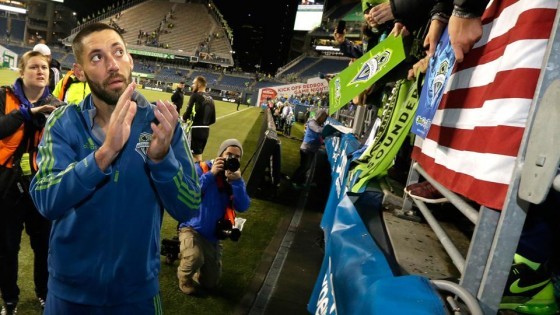 Seattle Sounders FC heads into the deciding second leg of the MLS Western Conference Semi-Finals, at FC Dallas' home stadium Toyota Park tonight at 4:30pm PT. With the Rave Green holding a slim 2-1 lead in the 2-legged, aggregate goal series over The Hoops, the possible permutations that would allow each team to advance are legion. Very simply, if the Sounders win or draw, they will advance. It is also possible that they could lose and advance. For all of the permutations, this article was pretty good, and this chart was also helpful.
What's at stake? 
A chance for silverware for the trophy case. Also this is possibly the Sounders best chance to win MLS Cup before this group's window of opportunity closes. The rest of the playoff field includes no team that the the Sounders should fear. Respect, yes; fear, no.
FC Dallas' Offense
Speed, speed, and more speed in the form of Fabian Castillo and his running mate Michael Barrios. These two like to fly up and down the flanks of opponents defense creating mayhem and chaos. Pure number "10" Mauro Diaz pulls the strings of The Hoops offense. It is a very simple offense. There is no tactical nous for The Hoops. There is only pace. Don't expect great passing. Do expect physical prowess.
FC Dallas' Defense
Dallas has a unspectacular defense that has gotten the job done. They are disciplined and will harass Seattle. They may be susceptible to becoming too compact and daring Sounders to attack them out wide. This could be dangerous with the likes of Pappa, Ivanschitz, Dempsey?, Neagle, and Mears all being excellent at delivering precise crosses to the the interior attackers like Martins, Dempsey, Valdez, Rose, and Friberg. Expect Seattle to attack wide early, then attack through center channel later. Expect Martins and Dempsey and Valdez and Ivanschitz and Pappa to be big. Expect to have a Lamar Neagle siting too.
Injuries and Yellow Cards
Seattle
Steffan Frei has a yellow card for time wasting from the knockout game versus LA Galaxy. Seattle is also likely missing defender Leo Gonzalez, midfielder Osvaldo Alonso, and defender/midfielder/Captain/Soccer God/Sheriff/Super Brad Evans with various leg injuries. Nelson Valdez is also not 100%. Expect to see him as a super sub.
Dallas
With only defender Bakary Soumare (concussion symptoms) and midfielder Kellyn Acosta (left hamstring strain) both listed as questionable, The Hoops do not have the key injury questions that Seattle does. Dallas has not accumulated any yellow cards.
Key Matchups
Sounders central midfield vs. Dallas'  Playmaking Maestro. Mauro Diaz
Seattle will try to bottle up Diaz by marking him into irrelevance and distraction. Diaz is a classic playmaker who is expert at unlocking and destroying a defense with devastating passes that leave defenders befuddled. Look for Seattle to try to cover him with Andy Rose and Erik Friberg. Rookie Christian Roldan is also a possible contributor who could make a surprise start with the sole task of taking Diaz out of the offensive flow.
Defenders Chad Marshall and Zach Scott vs. Forwards Blas Perez or David Texeira
Last game Seattle's defenders did a great job bottling up Texeira and limiting his ability to combine with Mauro Diaz. This limited Dallas to attacking up the flanks. Dallas loves to use the flanks to attack with pace and on the fast break. They don't like to do that when the attack slows and they have to do a slow build up against a team that has committed to defending them. Expect Sounders defenders to keep a disciplined back four and a cohesive center midfield. This strategy will concede the flanks to Barrios and Castillo, and try to clog the middle and deny Diaz room to operate and cut the slow Sounders center defense and midfield to shreds. One other note. Most of the damage that Texeira has done this year has been against the bottom teams in the league. Perhaps this will lead Dallas head man, Oscar Pereja to bring in the willy veteran Perez to attack Seattle's weakened defense.
Final Thoughts and Conclusions: How Can Sounders Win?
This match will come down to who had better offensive cohesion and execution. Both teams have great attackers. Whichever defense makes more plays will lead their team to victory. Expect one of Seattle's veterans to make a key play that either wins or loses the series for the Sounders.
Prediction 
Sounders 2 Dallas 2 in a barnburner. Seattle advances 4-3 on aggregate. Martins with a brace.
Broadcast
TV: 4:30pm on FS1
Radio: Listen to Ross Fletcher on Kiro 97.3 for possibly the last time if.
Next Side Up
Seattle will host the first leg of the Western Conference Finals on Sunday November 22, after a 2 week long FIFA window, if they get past The Hoops that is.
Linkage
Ivanschitz has been worth his weight in soccer balls.
New addition for Sounders Academy
Keller gives his HoFer opinion
Unlikely duo has played key role
Social timeline is pretty cool from the home win!
Scouting reports! More please!
Infographic for today's match
FC Dallas: knows their enemy
FC Dallas home of US Soccer Hall of Fame- Cool way to Tribute Lamar Hunt.
Feel free to comment below if you have something to say and be sure to join the SSU community by liking us at Facebook at SeattleSportsUnion.
Follow us during games on Twitter @SeattleSportsU and watch us Sundays at 8:00pm (PST) on YouTube, as we discuss all things Seattle sports.