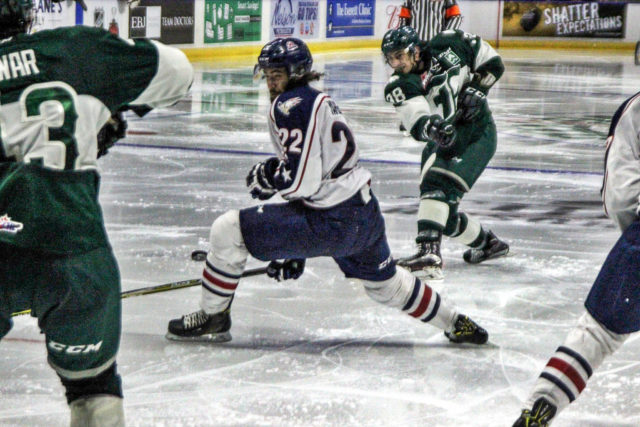 The Silvertips lost to Portland in their season opener but bounced back Sunday evening against the Tri-City Americans. The faster and more disciplined Tips scored 4 goals to the Americans single goal in a match that did not disappoint and gave new Head Coach Dennis Williams his first WHL win.
Returning for the Tips this year, Patrick Bajkov and Matt Fonteyne were on the same page all game with Bajkov scoring two of the four goals. Completing the starting line, Dewar also returns this year for what looks to be another solid season assisting Sutter on the opening goal. Sean Richards sealed the game early in the 3rd period with his first goal of the season to make the score 4-1.
Apparently at this point in the game the Americans had seen enough.  The match had been a high energy, temper flared battle but civil despite someone constantly occupying the penalty box. Finally with a minute to go in the game the gloves came off as Mark Liwiski and Dan Gatenby had to be separated and removed from the ice.
The Silvertips and especially goaltender, Dorrin Luding bounced back after an ugly game against Portland. Luding left the game early Saturday but allowed only one score on Sunday. Meanwhile fan favorite Carter Hart returns to Tip country from the Flyers but was a scratch due to illness.
This squad has a ton of talent and last nights win shows they have the mental toughness to take a hit and keep on swinging after a disappointing opening night loss. Welcome back to another season Tips fans and congratulations to Head Coach Williams on his first Silvertips win. It looks to be another exciting year.
Feel free to comment below if you have something to say and be sure to join the SSU community by liking us at Facebook at SeattleSportsUnion.
Follow us during games on Twitter @SeattleSportsU and watch us Sundays at 8:00pm (PST) on YouTube, as we discuss all things Seattle sports.