Silvertips drop game 2 to T-Birds 5-4 in OT
Game 2 of the Western Hockey League Playoffs was a wild affair that saw a lot of action and a lot of fighting on the ice. The Seattle Thunderbirds would even up the series 1-1 with a 5-4 win over the Everett Silvertips in overtime. The loss in Everett puts the Tips at a loss of home rink advantage as the series moves to Kent on Tuesday.
Everett outshot Seattle 49-33 but it would be Zack Andrusiak's goal 5 minutes into overtime that would tie the best of 7 series. The T-Birds fans would chant "You can't beat us!" as the Tips faithful left the building.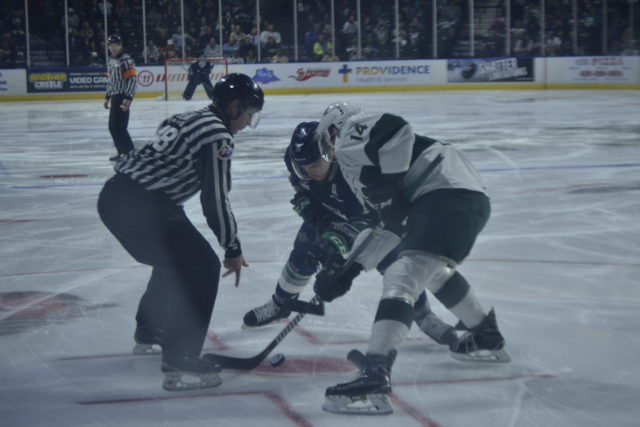 The game had it all as far as passion, fisticuffs, goals, and interestingly enough a strange call that eliminated a woudl be goal by the Tips. At the 10:13 mark in the 1st period, Silvertips defense man Gianni Fairbrother launched a strike at the T-Birds goalie Liam Hughs that appeared to go in the goal and bounce back out. The replay was shown at least 1/2 dozen times, but much to the partisan crowd's chagrin, it appears that the refs actually got this one right. The forced perspective of the goal camera created an illusion where the puck passed the line. The crowd would have none of it as they unleashed holy hell on the refs.
here is the no goal #EVTvsSEA pic.twitter.com/TABQaILvk7

— xy Everett Silvertips (@WHLsilvertips) March 25, 2018
Coahc Dennis Williams didn't think too much about that play and reflected on the game as a whole.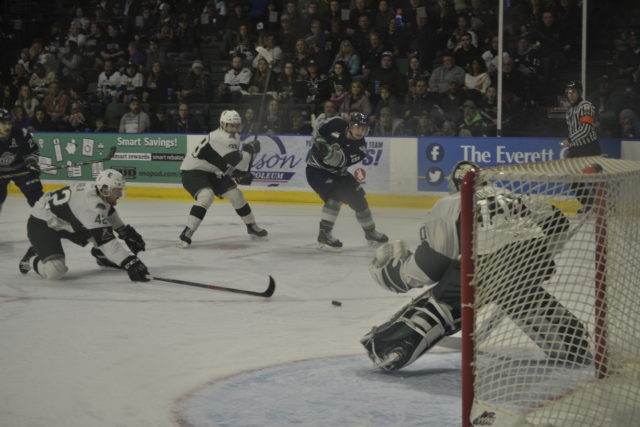 "When you look at it, I thought we possessed the puck well. I definitely think there were times where we had shifts where we struggled and they took it to us and that's what you're going to get in the playoffs. We always talk about it, you have to be able to manage those swing shifts. When things are going well for them, be able to keep them to the outside and play a good solo defensive game. Definitely something that we have to learn from. We knew it wasn't going to be an easy series. Were we hoping for a better outcome? Absolutely, but that's what happens when you play a good hockey club. What an individual effort by their guy on the game winning goal."–Head Coach Dennis Williams
Feel free to comment below if you have something to say and be sure to join the SSU community by liking us at Facebook at SeattleSportsUnion.
Follow us during games on Twitter @SeattleSportsU and watch us Sundays at 8:00pm (PST) on YouTube, as we discuss all things Seattle sports.