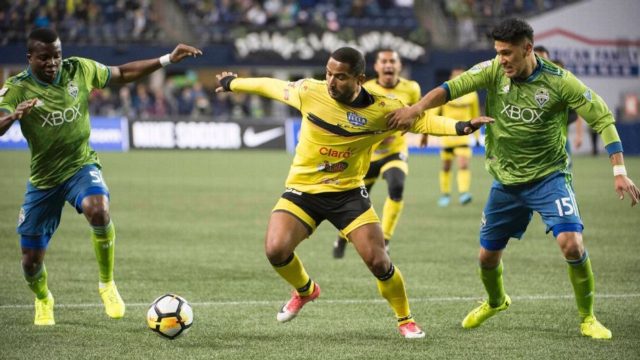 Second half onslaught powers Sounders past Santa Tecla in CCL play
Yes last week Santa Tecla go the drop on the Soudners for a 2-0 win and we saw an injury to Jordan Morris that may have needed his season. This evening, we say a 4-0 devastation of the El Salvadorian team in the CONCACAF Champions League. The Sounders move on from the round of 16 to bigger an better things due to goals by Will Bruin (47′), Nicolas Lodeiro (69′), Chad Marshall (81′), and Magnus Wolff Eikrem (83′).
Not a bad way for Magnus Wolff Eikrem to open his Sounders account.

📷: @maxaquinophoto pic.twitter.com/k4f24AOzIZ

— Sounder At Heart (@sounderatheart) March 2, 2018
The 1st half was a struggle as a lone goal by Bruin got the Sounders the lead. But the 2nd half was all Sounders as Santa Tecla had few answers for the MLS runners up. Seattle will face Mexican power Chivas de Guadalajara in the quarterfinals with the first leg set for March 6. Seattle has reached the semifinals of the tournament once in its previous four appearances.
LODEIRO!!! He heads in a Dempsey cross to give the Sounders a 3-2 aggregate lead. pic.twitter.com/3LAh4Tya08

— Max Aquino (@maxaquinophoto) March 2, 2018
Feel free to comment below if you have something to say and be sure to join the SSU community by liking us at Facebook at SeattleSportsUnion.
Follow us during games on Twitter @SeattleSportsU and watch us Sundays at 8:00pm (PST) on YouTube, as we discuss all things Seattle sports.