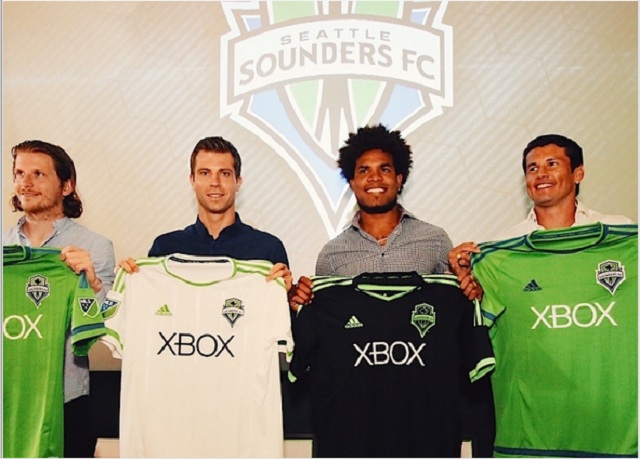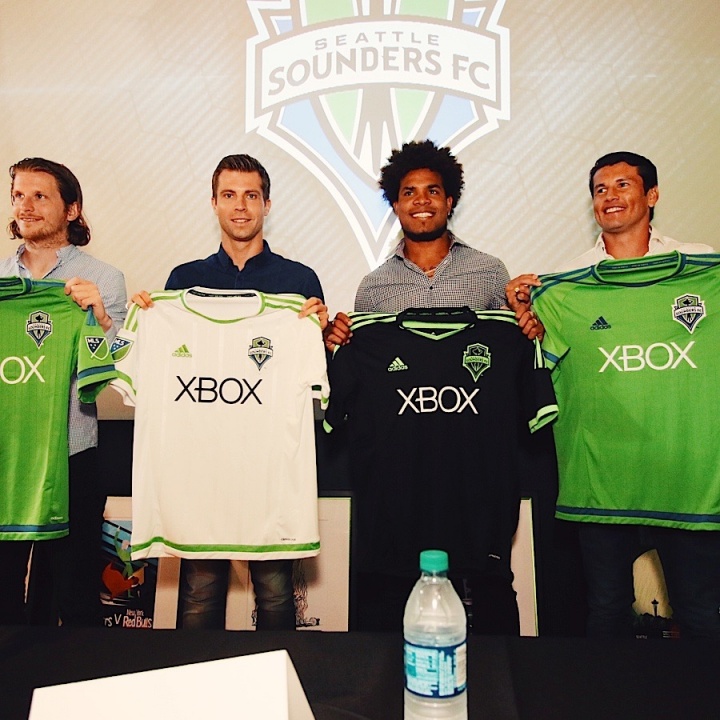 After a spring of such promise for the Sounders, this summer the wheels came off of our beloved Rave Green Attacking Machine. A dire losing streak that never seemed to end forced the Sounders FC front office's hand.  Lead by Sporting Director Chris Henderson, and General Manager Garth Lagerwey the Sounders commenced the most exciting four weeks of acquisitions in club and perhaps in MLS history.
The Sounders signed forward Andy Craven from S2, central midfielder Erik Friberg, a former Sounder, from  attacking midfielder Andreas Ivanschitz on a free transfer, forward/winger Nelson Valdez on a free transfer, and the Panamanian National Team Captain, center back Roman Torres from Columbia-based Millionarios FC on a convoluted, drama-filled transfer that took a week of wrangling to consummate.
All in all, Sounders FC General Manager Garth Lagerwey had a great summer transfer window. The talent that was acquired should really help Seattle in the autumn MLS playoff push.
Following the recent moves by the Sounders during this transfer window our soccer staff gathered and had a roundtable discussion about the recent  acquisitions. With lots of dram and excitement during this transfer window, I was ready to hear their opinions and analysis of the recent acquisitions.
Staff Roundtable
I recently had the opportunity to discuss in a roundtable format with Keela Tiernan, SSU soccer contributor–Abraham DeWeese, SSU Editor-in-Chief and soccer contributor. 
What was your initial reaction to signing Erik Friberg?
A: I was excited to see Friberg; hoping to reclaim the glory from a couple of years ago.
K: He's a solid signing for the Sounders midfield that is aging and injury prone. Friberg adds creativity and good ball movement going forward.  With Gonzalo Pineda not playing as well as last year Friberg will be a starter.
What was your initial reaction to signing Andreas Ivanschitz?
A: The Austrian team captain that is cool, but has Austria ever been in the World Cup?
K: Great signing.  This is a position the Sounders have lacked in since (former Sounder) [Steve] Zakuani left.  We haven't had a true winger in a long time and I'm excited to see where this goes.
What was your initial reaction to signing Nelson Valdez?
A:  Chad Barrett and Lamar Neagle have been bad.  I wish this signing happened earlier.
K: This should be a solid signing.  This is an interesting signing but gives us options up front and will allow us to have more wiggle room with our plan of attack.  Dempsey could play an attacking midfield role or valdez could swing out wide.
Editors note: Barrett has not had his productivity from previous years. Neagle has played in every match for Seattle this year. He is exhausted. No wonder he has been unproductive. Also he's not supposed to "the guy", that is supposed to be Obafemi Martins, Clint Dempsey, and Marco Papa.
What was your initial reaction to signing Román Torres?
A: I saw him play for the Panama national team during the CONCACAF Gold Cup; big, physical, and nasty.  Three things the Sounders need and has been missing.
K: Love this signing.  It gives Seattle a strong center pairing that is going to be the best in the league if Marshall can stay healthy.  Strong, physical presence something Brad Evans is lacking. Also, it gives more depth to the Sounders as Evans can be moved wherever he is needed.
Editors note: Captain Brad Evans has played center back, forward, center midfield, right midfield, and right back so far this year. He is truly the indispensable man. 
With the additions, who gets demoted/dropped from the Sounders?
A: I can see Barrett and Neagle moving back to backup roles. Micheal Azira and Marco Papa will get dropped–Azira just isn't playing well and Papa's DUI may have been the final blow.
K: Papa is likely traded out. Pineda could be next. Evans goes back to being utility. Neagle comes off the bench or may get the start depending on whether Valdez is a winger. No more S2 promotions for sure.
Editors note: Marco Papa returned to the Sounders about a week and a half ago, and played the last two matches for Seattle, a CONCACAF match and, the 2-1 Cascadia Cup victory on Sunday. It seems that his teammates, Seattle's management and the fans have all welcomed him back with open arms. He was quite emotional after the match.
SSU's Take
The ownership group of the Sounders has stepped up and directed management to take some risks and try to get back into the playoffs and win a MLS Cup.
They have spent money, a lot of it. The used the new "voodoo money", so called "targeted allocation money", to provide the signing of Nelson Valdez.
They signed two national team captains.
They addressed positions of need, forward, winger, and central midfield.
They also made a play for the future, with the signing of Román Torres. This is because defenders last longer in general than midfielders and forwards do. I would expect Torres to last another 4-5 years in MLS.
Also, a key point that Lagerwey stated in a recent interview, Seattle didn't give up anything to acquire these players other than their owners' money. The didn't have to make a trade for anyone or give up a promising prospect.
They only spent money. Much of the money spent was "allocation money", another form of MLS salary cap avoidance "voodoo money". The Sounders have the talent and will have lots of competition at multiple positions going forward. Lets hope that the cream rises to the top. They also only have 8 games remaining in the regular season. The next two month will see them play as many matches as they did during the previous month. Its time to get healthy and come up with a plan to thrive, not just survive.
Linkage
Feel free to comment below if you have something to say and be sure to join the SSU community by liking us at Facebook at SeattleSportsUnion.
Follow us during games on Twitter @SeattleSportsU and watch us Sundays at 8:00pm (PST) on YouTube, as we discuss all things Seattle sports.