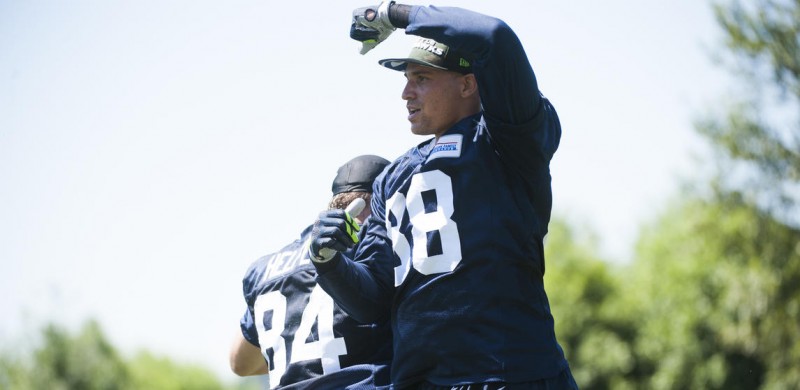 The recently acquired Seahawk Tight End, Jimmy Graham, was unveiled at No. 31 of an NFL player poll for top 100 players. The Jimmy joins strong safety Kam Chancellor (No. 41), linebacker Bobby Wagner (No. 69), and defensive end Michael Bennett (No. 90).
Graham was voted the 10th best player in 2013, a season that saw the Jimmy grab 86 balls for 1,215 yards and a career-high 16 touchdowns. This last year, a shoulder injury kept him to 85 receptions for 889 yards and a team-high 10 touchdowns.
Jimmy Graham was traded earlier this year from the New Orleans Saints to the Hawks for All-Pro Center Max Unger and a 1st round pick in 2015. Widely considered the 2nd best Tight End in the NFL, the Hawks gave up an awful lot to get him, so expectations are high. It seems as if the expectations of his peers is high as well; as he is included so highly on the list. The Seahawks who made the list last year (2014) should be later this summer within the top 30:
CB Richard Sherman (No. 7)*

RB Marshawn Lynch (No. 14)*

FS Earl Thomas (No. 17)*

QB Russell Wilson (No. 20)*
*2014
Feel free to comment below if you have something to say and be sure to join the SSU community by liking us at Facebook at SeattleSportsUnion.
Follow us during games on Twitter @SeattleSportsU and watch us Sundays at 8:00pm (PST) on YouTube, as we discuss all things Seattle sports.