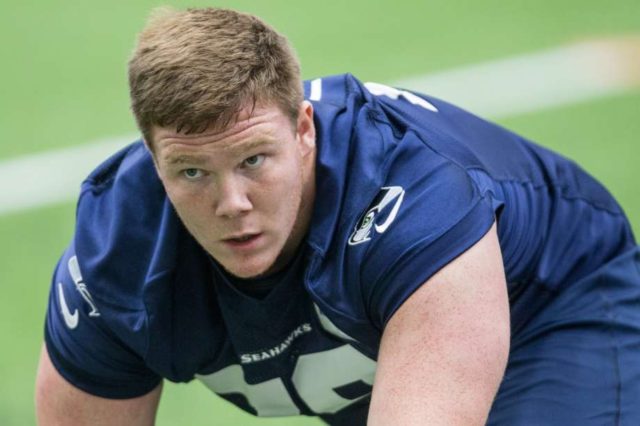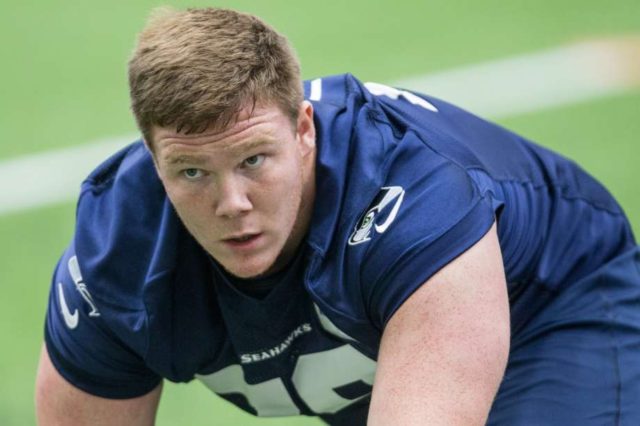 Seattle Seahawks '17 Rook Report, week 5
Well folks, training camp has wrapped up, the Seahawks played their final preseason game, the the 53 man cut just happened. This preseason, we monitored the progress of these rookies during camp and come to expect the final results of the final cut (week 1, week 2, week 3, week 4).
Eight Seahawk rookies were kept on the roster this year. Let's take a look at who was kept and who did not make the cut.
#
Name
Pos.
Ht.
Wt.
Age
Exp.
College
66
Brown, Darrell
T
6-5
317
23
R
Louisiana Tech
Brown was added to the Hawks in early August as depth to a position that saw Germain Ifedi and George Fant go down. The UDFA rookie however, could not beat out Ethan Pocic or Jordan Roos for a backup position. He was just cut this last week.
46
Butler, Rodney
LB
6-1
230
22
R
New Mexico State
With two tackles and a pass defended, Butler showed showed some skill in the game against the Raiders. It would be the most action that he would see as the Hawks sparsely used him in the previous 3 games. Rodney's time on the roster was as a camp hand and he did not make the cut.
32
Carson, Chris
RB
6-0
218
22
R
Oklahoma State
The darling of this camp and the reason why veteran Alex Collins was cut, was due to the emergence of Carson. With 102 yards on 24 carries, Chris showed Pete Carroll everything he wanted to see and more. Solid pass blocking and pass receiving skill put him over the top as the most well-rounded running back on the roster. Don't just expect the 7th rounder to sit on the bench this season by the way, he will get some gametime action by the time it is all said and done.
84
Darboh, Amara
WR
6-2
219
23
R
Michigan
The Seahawks drafted Darboh because his measurables, size, and his experience with pro-style offenses. These being the reasons they drafted in the 3rd round almost forces the Hawks to hand him a roster spot although he only caught 3 passes for 22 yards. Fan favorite Kasen Williams was let go, but in this case Carroll and Schneider are looking to the future.
87
Donatell, Steve
TE
6-6
241
23
R
Western Kentucky
Donatell got buried under a loaded TE roster. There wasn't anyway (minus injury) to break into the roster.
13
Grayson, Cyril
WR
5-9
183
23
R
LSU
I am calling it now, although the Hawks cut Grayson, he will comeback as a practice squad player for the blue and green. He has game-changing speed and perhaps the Hawks can mold him into a kick returner.
26
Griffin, Shaquill
CB
6-1
198
22
R
Central Florida
Griffin won the roster spot fair and square. He was quiet in game 4 which meant the Hawks did not want to risk him getting injured. After 7 tackles and 4 passes defended, Griffin definitely impressed. Expect Jeremy Lane to start and in nickel, Lane will switch to nickle back and Griffin covers the outside. I do not expect Carroll and D-Coordinator Kris Richard to put Griffin in a "sink or swim" scenario while an experienced Lane sits.
42
Hill, Delano
SS
6-1
216
21
R
Michigan
Hill flew around the field this summer. He had 10 tackles and a pass defended, good enough to earn him a roster spot in  a revamped Legion of Boom.
92
Jones, Nazair
DT
6-5
304
22
R
North Carolina
Jones got a lot of work this summer. With Malik McDowell falling off of ATV's and a d-line that is getting older, Jones came in and took control of the 3 technique. Many thought Jarran Reed need beware, but ti would be the veteran Ahtyba Rubin whose job that Jones would take. Jones would log 9 tackles 1/2 a sack and a defended pass this preseason. He will be in the mix for frequent substitutions–we will see a lot of Jones this year.
83
Moore, David
WR
6-2
219
22
R
East Central (OK)
Moore impressed this year but was fairly inconsistent. With Kasen Williams going to Cleveland, expect Moore to get that practice squad invitation as only 5 receivers were kept on the Hawks roster.
53
Peters, Otha
LB
6-0
238
23
R
Louisiana-Lafayette
Peters had a game saving interception last Thursday in an electrifying manner. It was an exciting moment in the game and in his career, however, he had not done enough to take out DJ Alexander or Terrance Garvin. Peters was cut.
79
Pocic, Ethan
G/T
6-6
309
22
R
LSU
Pocic had a decent run to prove that he could earn a starting job; however, Justin Britt is just a tad bit better and has more experience.  The Hawks tried Pocic at several other positions to give him reps and versatility that they need. In case of injury, expect to see Pocic as one of the first to come in.
1
Rogers, Darreus
WR
6-1
218
23
R
USC
Rogers just did not get enough targets to show what he could do. But behind David Moore and Kasen Williams (both cut), Rogers did not distinguish himself.
64
Roos, Jordan
G
6-3
302
24
R
Purdue
Roos proved that he could play. He got time at guard and made the coaching staff think that this is their next big project. An UDFA, Roos came in and competed hard finding ways to drive block to the second level on many occasions. His position will remain guard as he lacks the sheer size of a tackle, but nonetheless he will be a good backup.
46
Swoopes, Tyrone
TE
6-4
254
22
R
Texas
The former QB will make the practice team. He was in so many of the right places both in blocking and receiving. Seahawk TE tend to get injured, so even though Swoops got cut, expect him to remain employed and be the first guy added on when Jimmy Grahm or Luke Willson get inevitably injured.
33
Thompson, Tedric
FS
6-1
204
22
R
Colorado
Thompson notoriously gave up a big play in the first preseason game of the year His defense was better as each week progressed and he finished with 12 total tackles, a pass defended, and an interception. In this game you will get burned, how you respond is all important, apparently Thompson took that negative and learned from his mistake to earn a roster spot.
40
Tyson, Mike
CB
6-1
207
24
R
Cincinnati
Tyson is rumored to have made the practice squad. He was extremely erratic on the field this summer, but his talent is too good to just jettison. With Deshawn Shed injured, keeping Tyson and teaching him the nuances of the game is a good idea.  He would get a chance to learn in a controlled environment while awaiting  a call up.
Feel free to comment below if you have something to say and be sure to join the SSU community by liking us at Facebook at SeattleSportsUnion.
Follow us during games on Twitter @SeattleSportsU and watch us Sundays at 8:00pm (PST) on YouTube, as we discuss all things Seattle sports.