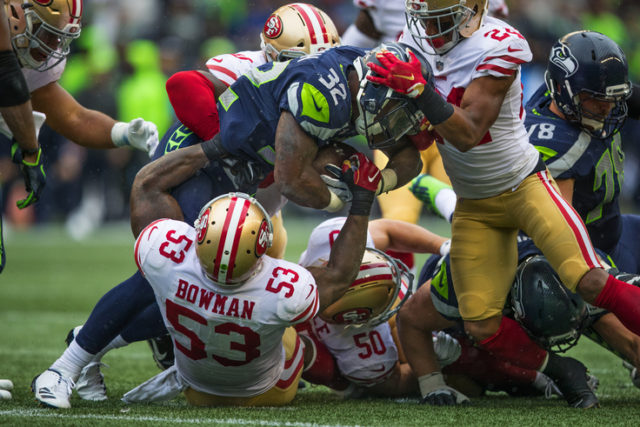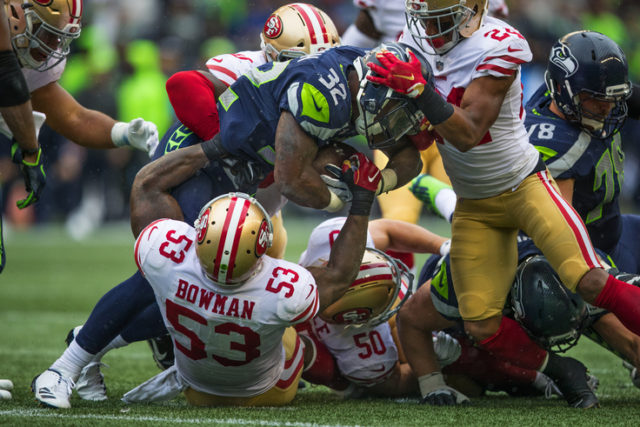 Seahawks look bad in 12-9 win over 49ers
The season opener at Centurylink field saw 68,729 rabid fans observe and absolute horror show of a game as the Seattle Seahawks slip past the San Francisco 49ers 12-9. The game was rife with poor play in every phase of the offensive game. If not for the educated feet of Russell Wilson, the 12s may have witnessed the upset of the young 2017 season.
No passing game
This is a broken record at this point, this offensive line is bad. The swinging gate line would be laughable if it wasn't our quarterback having to constantly run for his life. This season Russell Wilson has been the most hurried quarterback in the league and it shows in his output.
With a lifetime QB rating near 100, Russell was only 59% on his completions (including a stretch of 6 straight incompletions) and put up a wretched 5.1 yards per pass attempt. There were at least 3 passes that should've been intercepted, he took 3 sacks, and tossed at least 4 passes out of bounds to evade sacks. It also didn't help that there were 4 drops in this game.
"We didn't catch the ball as well as we normally do," Coach Pete Carroll said. "We gave away a couple touchdowns early that would have really been the whole difference in this football game."
The lack of a passing game forced, Wilson to take to the ground in the 4th quarter where he saw some success with 2 first downs in the waning minutes as well as an elusive escape from a certain sack to hit Paul Richardson for the 1st touchdown of the season—as well as the winning score of the game.
Seahawks offense could not stop DeForest Buckner
Former 1st round pick DeForest Buckner was everywhere and he ate up a pitiful Seahawks offensive line. Although he didn't get a sack, he had 4 hits, 5 hurries, for 9 total pressures in the game. Buckner reminds Seahawk fans of the holy terror that we have on our defensive line (like Michael Bennett and Cliff Avril) and we are seeing a player who will change the course of games twice a year against the Hawks.
#GoDucks DeForest Buckner swaps jerseys with Mike Bennett @fox12oregon #SFvsSEA pic.twitter.com/kmDg0bj7EM

— Nick Krupke (@NickKrupke) September 17, 2017
Seahawks couldn't stop the run
The Hawks have been a top tier defense for the last half decade; however, this mess of an offense has kept the "D" on the field for far too long and it shows. The defense was winded from the awful loss to the Green Bay Packers and we saw them get bullied by the 49ers as San Francisco ran for 159 yards on 19 carries.
The ground and pound attack came from Carlos Hyde who pulled in 124 yards on 15 carries, including a 61-yard dash. Backup RB Matt Breida wasn't to be undone taking 35 yards on 4 carries.
Speaking of running backs
Eddie Lacy was inactive for this game. C.J. Prosise had no carries and Thomas Rawls had 4 miserable yards on 5 carries, unable to make any yards behind that offensive line. Today, rookie Chris Carson took control of the job. With 20 attempts and 93 yards (behind a terrible line) Carson has the explosion and the hunger that is sorely lacking on this team.
SSU Player of the Game
I am inclined to give it to Russell Wilson, but a stinker of a game like this only see the punter Jon Ryan win the Player of the Game. With 3 of his 7 punts landing inside the 20, Ryan forced the 49ers into the long field. Here is to hoping this is the only time that the punter wins this award this year.
Next side up
Seahawks take on the Tennessee Titans at Nissan Stadium next Sunday. The 1-1 Titans lost to a very good Oakland Raider team this Sunday. The Titans feature Marcus Mariota at QB and a solid running game. We will see if the Hawks can shore up their run defense for this bounce back game.
Feel free to comment below if you have something to say and be sure to join the SSU community by liking us at Facebook at SeattleSportsUnion.
Follow us during games on Twitter @SeattleSportsU and watch us Sundays at 8:00pm (PST) on YouTube, as we discuss all things Seattle sports.