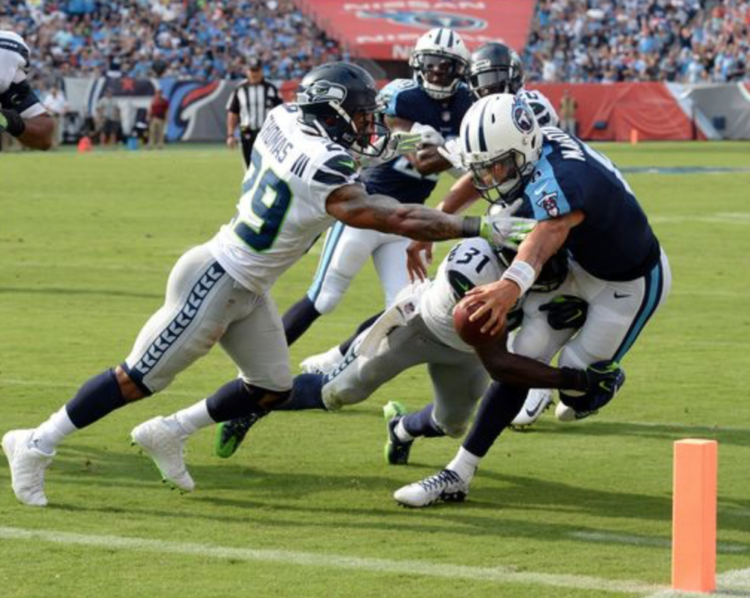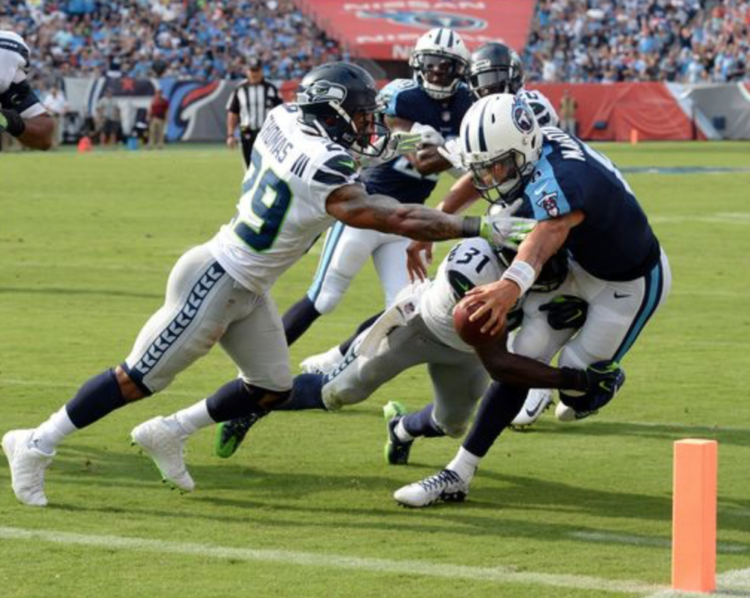 The Seahawks tried to rally late but ultimately fell to the Tennessee Titans 33-27 in Nashville in a very tense game played in the shadow of a league facing mass individual protests in support of player rights and freedom of expression.
Overthrows, punts, penalties, drops and a fumbled snap hightlited a first half of football which saw the Seahawks punt on their first six possessions. Cornerback Richard Sherman was mad at being assesed multiple pentalies on one play for a "disputable" late hit out of bounds on Titan's QB Marcus Mariota.
Yet, Seattle's 7th drive resulted in a TD pass from Wilson to Baldwin and after the successful extra point by Blair Walsh, the Seahawks took the lead 7-6. But in the closing minute of the half, the Titans drove 47 yards in 8 plays to set up Ryan Succop 47-yard field goal and entered halftime with a 9-7 lead.
Seattle regained the lead with the first drive of the second half going 75 yards in 9 plays ending with a Wilson to Chris Carson 10 yard TD pass. But then the wheels came for the Seattle defense as the Titans blitzed the Seahawks for 21 straight points on three drives that needed only 10 total plays.
First Richard Matthews took a pass 55 yards to the house for score. Then after a Seattle three-and-out drive that gained one total yard, Tennessee scored five plays later with a Mariota to Jonnu Smith 25-yard completion. After another Seattle punt, the Titans needed only 1 play to go 75 yards as DeMarrco Murry broke through the Seattle line and  sprinted to the goal giving Tennessee a 30-14 lead after three quarters.
Seattle posted 13 points in the final quarter but the clock ran out on them. The Titans then tacked on another field goal and the game ended 33-27.
On the day, Tennessee rushed for 195 yards on 35 carries. Conversely, Seattle rushed for only 69 yards on 22 carries combined.
Marcus Mariota threw two touchdown passes with 225 yards.
With the loss, Seattle falls to 1-2 on the year. After losing on the road again to Green Bay, then struggling to beat a lowly 49ers squad at home, Seattle's 4-0 preseasons success is feeling like a distant memory. What type of team do we have here before us?
Player of the Game:
Based on shear volume alone, Russell Wilson compiled stats worthy of the honor as the QB completed 29 of 49 passes for 373 yards and four scores. Wilson did his best to get the victory and led Seattle on two long fourth quarter dives ending in TD passes, but just not enough.
Next Up:
Seattle returns home to CenturyLink Field to face an Andrew Luck-less Indianapolis Colts in a Sunday night affair. Indianapolis earned a narrow 31-28 victory over Cleveland to improve to 1-2 on the year.
Feel free to comment below if you have something to say and be sure to join the SSU community by liking us at Facebook at SeattleSportsUnion.
Follow us during games on Twitter @SeattleSportsU and watch us Sundays at 8:00pm (PST) on YouTube, as we discuss all things Seattle sports.