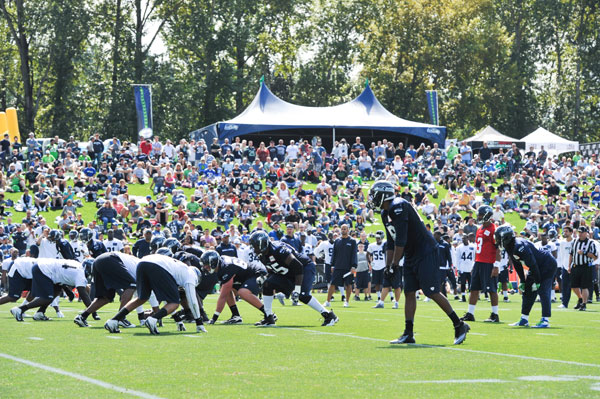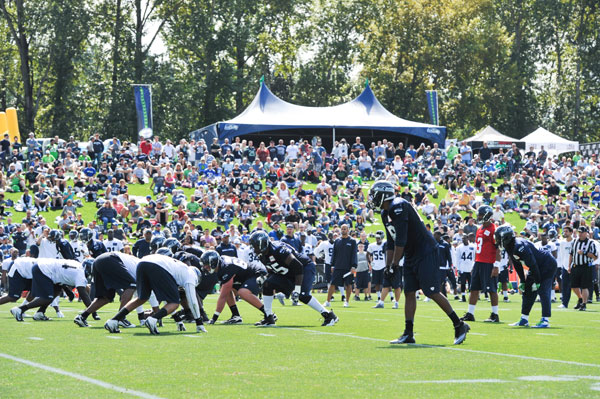 Seattle Seattle Seahawks '17 Rook Report, week 1
Well folks, it is that time again, our 3rd year of the Rook Report!  Every year, we go into who are the young guns who will take a job by the throat and who falls by the side.  Last year, Germain Ifedi made the name for himself as did C.J. Prosise.  A year before, it was Frank Clark and T.J. Lockett. Who will bet the major players this year to become the heroes of tomorrow?
Your Seattle Seahawk rookies
1

Rogers, Darreus

WR

6-1

218

23

R

USC

Undrafted rookie Rogers, played a backseat to Robert Woods. However, he averaged 12.4 yards per catch and was known as a fighter when it came to 50/50 balls.  Does not have blazing speed with 4.6 speed.

13

Grayson, Cyril

WR

5-9

183

23

R

LSU

Cyril is not a football player, rather he is a track star from Louisiana State University. With 4.33 speed, 7 inches in the broad jump and posted a 34.5-inch vertical leap, Grayson is a freak athlete.  The Hawks may intend to use him in special teams.

26

Griffin, Shaquill

CB

6-1

198

22

R

Central Florida

Drafted in the 3rd round and 90th overall, the Seahawks think they may have struck gold. Aggressive and ready to hit, the Hawks like his physicality. He lacks inline speed and bites at times to make a big hit rather than a sure tackle. We will see if he can take advantage of D-Coordinator Kris Richards. The Hawks are high on him and want to see him push Deshawn Shead for a starting spot.

.

32

Carson, Chris

RB

6-0

218

22

R

Oklahoma State

Carson was the 7th round pick and often but that doesn't mean that Hawks are not taking notice. With a running back situation in flux, there is an opportunity available if he decides to take it. Carson looks like an NFL RB. He may lack the explosive edge, but in the NCAA, he could run downhill with the best of them. Look for him to push Alex Collins for the last RB spot.

33

Thompson, Tedric

FS

6-1

204

22

R

Colorado

Injuries to Earl Thomas and Kam Chancellor have the Seahawks scrambling to fill depth. Drafted in the 4th round to find a ball-hawking free safety. An instinctive coverage safety, Tedric will d well to sit behind Kam and Earl, learning from the very best. Does bite at time on in routes, but that can be corrected with coaching.

.

40

Coleman, Kyle

FB

6-0

231

23

R

Arkansas-Pine Bluff

An unsigned free agent, Coleman looks to push veteran Marcel Reece.  If he can impress, he is a cheaper option.

40

Tyson, Mike

CB

6-1

207

24

R

Cincinnati

Nope not that Mike Tyson, this one was picked in the 6th round by the Seahawks to try and push for corner back depth.  A great physical DB, he lacks some of the jaw dropping speed that others have. Defends short passes exceptionally well, we may see him shift to the Kam Chancellor strong safety role.

42

Hill, Delano

SS

6-1

216

21

R

Michigan

The Hawks went all in on DBs this draft. Selected in the 3rd round, Hill may be the most interesting prospect. With blazing fast 4.47 speed, Hill gets to the ball carrier and finishes the tackle. He is more of a strong safety than a free safety so this will be a competition to watch.

.

46

Swoopes, Tyrone

TE

6-4

254

22

R

Texas

With Jimmy Grahm and Luke Willson, it will be hard to get some playing time. 6'4 undrafted free agent Tyrone Swoops is  a former QB and made a name for himself in transitioning at Texas to the TE position. We will see quite soon if this was just a gimmick.

53

Peters, Otha

LB

6-0

238

23

R

Louisiana-Lafayette

Linebacker became a position of need. The small college sensation impressed when he became captain of the small college Louisiana-Lafyette. After having transferred from Arkansas to the smaller college, he found a way to make it to the top of the heap and earn a tryout in camp.

64

Roos, Jordan

G

6-3

302

24

R

Purdue

No one is talking about Roos, but he should turn heads. The question is, does he get lost behind Pocic and newly acquired Luke Jockeil?

65

Senior, Justin

OT

6-2

329

23

R

Miss St

Drafted in the 6th round, Senior is a huge mound of Canadian. He is unfortunately injured, but he has the strength to make it happen at the next level. His footwork is shaky, so perhaps the injury will let him stick around to learn while he heals up.

79

Pocic, Ethan

G/T

6-6

309

21

R

LSU

Seahawk fans have been screaming for offensive line help.  Last year, the Hawks drafted Germain Ifedi, and this year, they got another versatile big-ugly to fit in the pits.  An absolute monster, Pocic has speed, quickness, and ability to go with his size. Quite possibly the steal of this draft, Ethan is everything Tom Cable wants in a lineman. Able to play center, expect him to get work around the line where opportunity is available. He looks to be a day 1 starter as he is a solid run and pass blocker. His ability to start will be predicated on if he can pick up the zone block scheme of Cable's.

.

83

Moore, David

WR

6-2

219

22

R

East Central (OK)

No one is talking about this rather large and rather fast (4.42) receiver.  From a small college, he may not have received much attention. Pete Carroll and Jon Snyder noticed and picked him up in the 7th round and are willing to see if they have their next Doug Baldwin. While the attention will be focused on Darboh, don't count Moore out.

84

Darboh, Amara

WR

6-2

219

23

R

Michigan

A wonderful human interest story, Darboh escaped war torn Sierra Leone to live his dream in America. A newly naturalized citizen, he made his way to John Harbaugh's Michigan squad. With 57 receptions, 862 yards, and 7 TDs, he was the catalyst of  potent pro-style offense at Michigan that had many saying was the best team in the country.  He is a fluid slot receiver who can break the big one.  He has NFL size and speed but can block well on run plays. Has standard Harbaugh influenced toughness.  Tends to be a body catcher and will need to get better catching with his hands to make it at this level; if he can make that transition, a job is there for his taking.

.

87

Donatell, Steve

TE

6-6

241

23

R

Western Kentucky

Another former QB, Dontell has a look the Seahawks like for the TE position.  The son of Chicago Bears defensive backs coach Ed Donatell, he is a blocking TE, something the Hawks lack on this team.

92

Jones, Nazair

DT

6-5

304

22

R

North Carolina

A 3rd round pick, Jones is a player than many deem a steal in this draft. The nose tackle has huge upside at the 5 technique, and looks to backup Jarran Reed. He may need a year of seasoning, but platooning up front isn't out of the question. Keep your eyes wide open for Jones!

.

93

Liggins, Jeremy

DT

6-3

315

24

R

Mississippi

He is big and he is nasty. He also played offensive tackle.  Almost a reverse J.R. Sweezy, he may get a shot at defensive tackle this year.

94

McDowell, Malik

DT

6-6

299

21

R

Michigan State

It pains me to write about the Seahawks top draft pick after recent events. While I defended McDowell to my friends to give him another chance, Malik chose to ride a 4 wheeler and injured himself in the offseason doing so. His 2017 season is now in jeopardy and all the speculation that he behaves childishly seems to have been proven true. McDowell is a top 5 talent in the draft and fell to the 2nd round due to questionable life decisions.  My hope is that he learns from Bruce Irvin and Frank Clark overcoming his immaturity to become a solid player in this league. He should be the next Michael Bennett, but so far, it is an inauspicious start.

.
Feel free to comment below if you have something to say and be sure to join the SSU community by liking us at Facebook at SeattleSportsUnion.
Follow us during games on Twitter @SeattleSportsU and watch us Sundays at 8:00pm (PST) on YouTube, as we discuss all things Seattle sports.