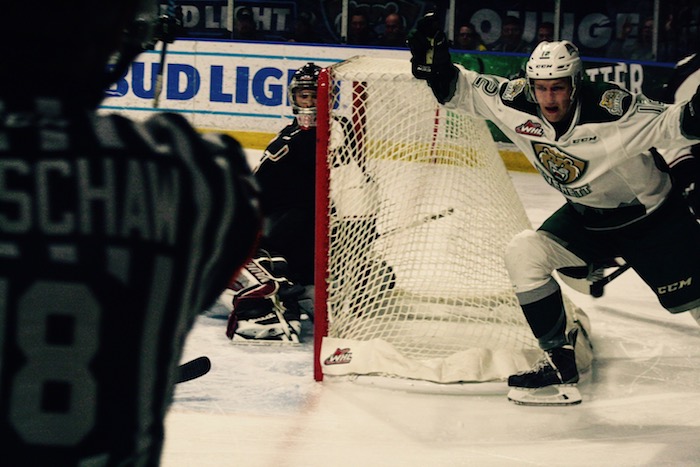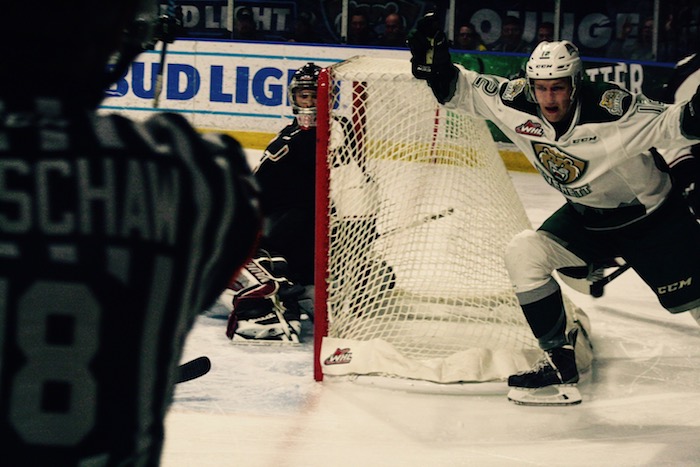 Reaction: Silvertips win penalty-fest on Alumni Night, take down Giants 1-0
The Everett Silvertips (31-11-8-2) played before a packed house Saturday evening when the team welcomed the Vancouver Giants (17-31-2-3) to town on Alumni Night in Xfinity Arena. Yet, although the final score was close, the play on the ice was, not so much. When the final horn sounded, the Silvertips earned their 31st victory of the year in the 1-0 win.
The story of the game early was the outstanding play of Giants goalie Ryan Kubic as the Manitoba native turned aside everything the the Silvertips threw at him. When the period ended, Kubic stopped 15 Everett shots as the teams skated to a 0-0 tie after one. The struggling Everett goalie Carter Hart stopped 11 shots himself in the opening frame.
The second period was more of the same except Everett ratcheted-up the defensive play as the Silvertips put the clamps on Vancouver allowing only four shots on net in the session.
The intensity on the ice picked up as the two teams were assessed six penalties in the period and a combined 12 in the contest. The lone goal came from the stick of Everett center Bradly Goethals who on a bad angled play sent the puck past the stunned Kubic for a 1-0 lead. Turns out Goethal's third goal of the season would stand as the game winner.
The Silvertips fired 15 more pucks on Kubic in the second and another 11 in the third as the Vancouver net-minder turned away all but one of the 41 shots in the game to earn the second star.
Carter Hart picked up his 20th win and his first in his last eight appearances.
Everett now heads out east for a six-game swing starting next Friday night against the Brandon Wheat Kings (25-20-4-2).
Feel free to comment below if you have something to say and be sure to join the SSU community by liking us at Facebook at SeattleSportsUnion.
Follow us during games on Twitter @SeattleSportsU and watch us Sundays at 8:00pm (PST) on YouTube, as we discuss all things Seattle sports.