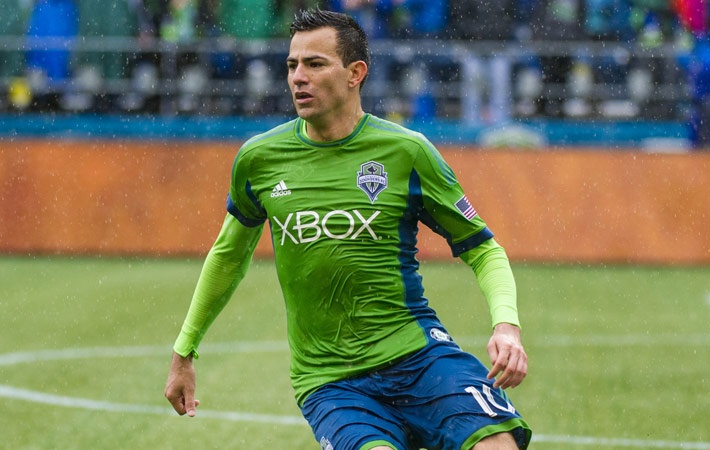 Recently, Marco Pappa, Mid Fielder for the reeling Seattle Sounders was arrested for DUI.   This was a horrible decision and putrid timing by a selfish individual.
I don't normally throw the term selfish out there; however, in this case it is quite true.  Pappa has been one of the more consistently good players on a team that has been reeling–now having lost 6 or the last 7 games.
On the precipice of  falling out of playoff contention the last thing the Sounders needed was it's attacking midfielder to be subject to suspension, removing him from an already heavily depleted squad. Having just returned from the Guatamala National team, Pappa had returned to the Sounders and partied a little too hardy warranting the attention of the State Patrol.
I do not even want to go into the moral implications of driving drunk and endangering everyone else on the road (that is reprehensible).   But it baffles me why a guy who is playing at a high-level in this (or any sport) can't keep his drinking and late nights relegated to the off season.
How difficult is it for a star in the making to contact the team and have a cab ordered and paid for him to get home?   How difficult is it for Marco to get a friend to watch out for him? How difficult is it for Pappa to stay home during the season and focus on earning that paycheck and the adoration that comes with fame?
These questions are of course rhetorical because we know the answer, Pappa is more interested in having fun than to apply the dedication it takes to be the best at his craft.
Of course Pappa should be able to have fun, but his idiotic decision has hurt the Sounders team as much as it has hurt himself.  And that is why he is selfish, and this is why I am so annoyed with him.
I do hope the best for Pappa, if he has a problem, then maybe Soccer needs to be put aside while he deals with his demons.
Feel free to comment below if you have something to say and be sure to join the SSU community by liking us at Facebook at SeattleSportsUnion.
Follow us during games on Twitter @SeattleSportsU and watch us Sundays at 8:00pm (PST) on YouTube, as we discuss all things Seattle sports.