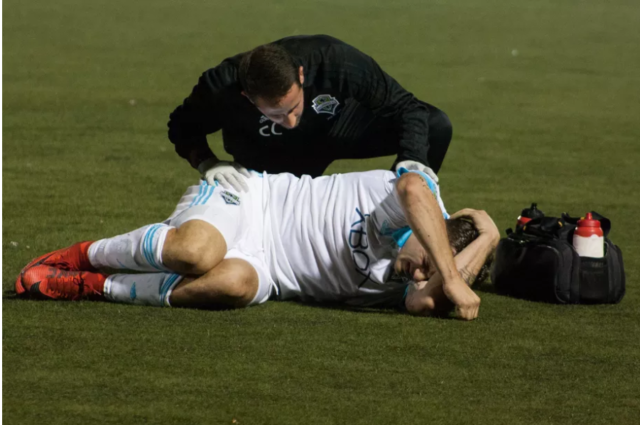 Morris' torn ACL worse than expected, will miss most of 2018 season
In a 2-1 loss to Santa Tecla in CONCACAF play, the Seattle Sounders lost star forward Jordan Morris for 6-9 months with an ACL injury. The young forward has been looked to as a future of this franchise, but now will miss excessive time for ailments.
\Last year, Morris missed the last 6 games of the season and 4 post season games due to a hamstring strain. The injury was attributed to a freak occurrence, but a second injury now has the Rave Green concerned of future health risks. President of Soccer Garth Lagerwey has his work cut out for him as he will have to scramble to fill his position.
The Sounders still have Clint Dempsey, however, they most likley wont move him to Morris' postion and rather keep him back. Aging Will Bruin and Lamar Neagle will serve as stop gaps; however, neither are looked to play a full 90 day in and day out.
"We're working on some things. We might have an announcement as soon as next week. So we're still working," Garth said about the short offseason and transfer window. "It gets pretty intense, honestly. When you play 11 months two years in a row and you have a six-week offseason — and it's roughest on these guys, because they have to come home, decompress, heal themselves, unwind and still come back fit enough to play in Champions League game. It's a real challenge for them, the compressed offseason puts a lot of pressure on us as well.

"Here's what I would say, and I think this hasn't been repeated enough. We just went to back-to-back finals and we won one of them. I know we didn't play as well as we wanted to in the last one, but I've got a ton of respect for the guys in our lockerroom and the guys on our roster. "
The 2016 MLS Rookie of the Year, Jordan Morris scored 12 goals. The 23 year old had just 3 goals last year.
Feel free to comment below if you have something to say and be sure to join the SSU community by liking us at Facebook at SeattleSportsUnion.
Follow us during games on Twitter @SeattleSportsU and watch us Sundays at 8:00pm (PST) on YouTube, as we discuss all things Seattle sports.