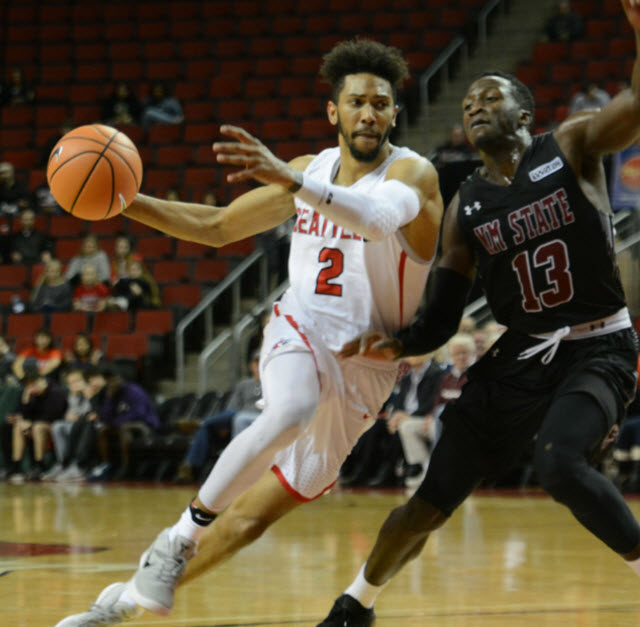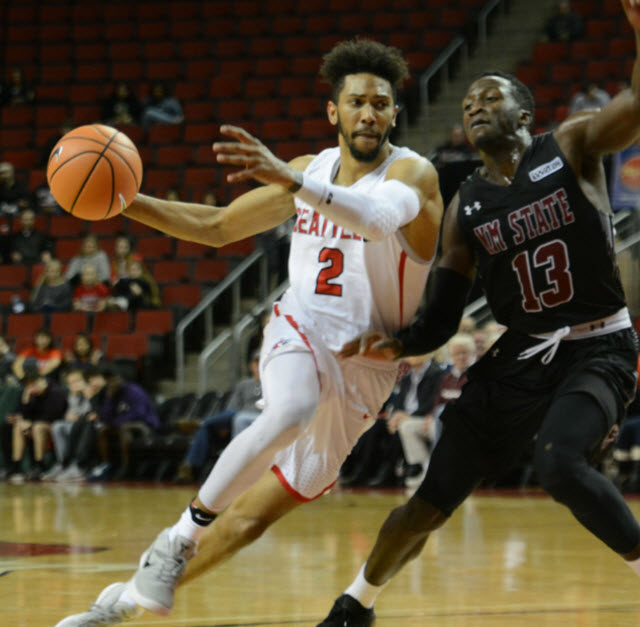 Jordan Hill scores 11 in OT to defeat the Aggies 73-63
No one gave the Seattle University (19-9, 8-3) a chance against the WAC bullies New Mexico State (22-5, 9-2) . Good thing Redhawk coach Jim Hayford doesnt listen to the detractors as his Seattle U squad defeated the Aggies 73-63 on Saturday afternoon.
The Aggies still own a 1 game lead for the WAC regular season title, had come into the game with the swagger of a giant. All season long they had been tagged as the favorites to win the WAC and go to the NCAA tournament. They defeated Seattle U earlier this year and expected to notch another win. This evening however, it would be the hometown Redhawks who would close the gap and set records.
WDN Update: @GoSeattleU defeats @NMStateAggies in overtime 73-63 in #WAChoops men's action. pic.twitter.com/L1qtK6tOm7

— WAC (@WACsports) February 17, 2018
The Redhawks would tally their 19th win, best since they were reintroduced to Division 1. And to get this win against a powerhouse program makes it all the sweeter.
"What a great day for Seattle U and for our basketball program," said coach Jim Hayford. "Today feels good because it was against a quality opponent. We have a lot of respect for our opponent, but tonight the story is our seniors. It's the commitment they made a year ago when they came and they trusted their senior year to this program."
Happy for the three seniors and the whole team. Heck the whole school. Can't have a great win unless you play a great opponent. Respect to NMSU! We're happy !! #SeattleU https://t.co/aeqaGoU6Nu

— Jim Hayford (@CoachHayford) February 18, 2018
Three seniors played their final home game for Seattle U and all were keys to success for the hometown squad. Jordan Hill scored 11 of his game high 24 points in overtime. Josh Hearlihy was instrumental as an inside force on defense and he would score 19 points to push the advantage. Richaud Gittens hit two 3 pointers early and played strong defense on the Aggies best player Zach Loften making his mark as a team player.
While the focus on the 3 seniors, much of the game was changed by the big guy, Aaron Menzies. The 7'3 British center from Manchester would find himself in foul trouble with 5 fouls midway through the 2nd half. He would however come back in and tally 14 boards and generally keep the Aggies out of the paint.
https://twitter.com/seattleumbb/status/965027206165491712
Feel free to comment below if you have something to say and be sure to join the SSU community by liking us at Facebook at SeattleSportsUnion.
Follow us during games on Twitter @SeattleSportsU and watch us Sundays at 8:00pm (PST) on YouTube, as we discuss all things Seattle sports.