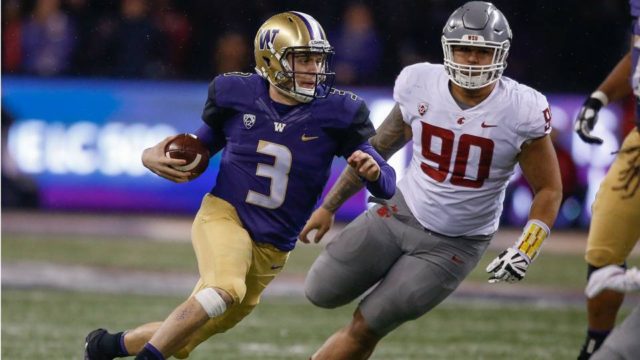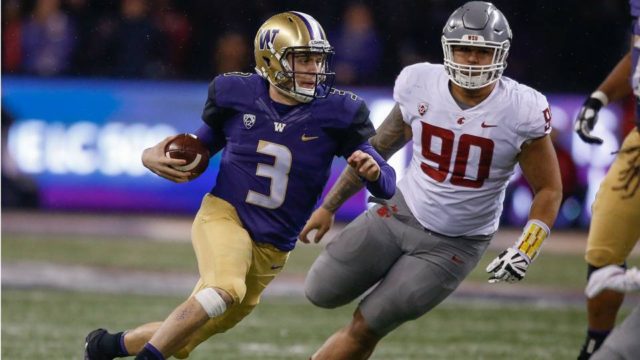 Huskies spoil Cougar's Pac-12 title hopes in a 41-14 beatdown
Saturday night, the much hyped Apple Cup turned out to be anticlimactic as the Washington Huskies would force 4 turnovers and cruise to a 41-14 win over the Washington State Cougars. The Dawgs would rush for 328 yards with 192 coming from running back Myles Gaskin. The career rushing TD record holder, Gaskin would add to his total with 4 more TDs in this possible final home game.
Husky QB, Jake Browning would only throw 17 times and managed just 93 yards and UW would find themselves down a couple palyers with injureies to RB Lavon Colemna and superstar reciever Dante Pettis. But it wouldnt matter much as frosh RB Savlvon Ahmed woudl add 82 yards in the run game to add to Gaskin's amazing night.
WSU's Luke Falk registered 369 passing yards, but couldnt keep track of the ball as he would be intercepted 3 times and lose a fumble to the Dawgs on the stormy evening. In another example of how bad things turned out for WSU, NFL bound defensive lineman Hercules Mata'afa was called for targeting and was ejected. He will miss the 1st half of the Cougar's bowl game (by rule). The Crimson and Grey would lose thier opportunity to secure a Pac-12 title bid and drop to 9-3 on the season.
Feel free to comment below if you have something to say and be sure to join the SSU community by liking us at Facebook at SeattleSportsUnion.
Follow us during games on Twitter @SeattleSportsU and watch us Sundays at 8:00pm (PST) on YouTube, as we discuss all things Seattle sports.