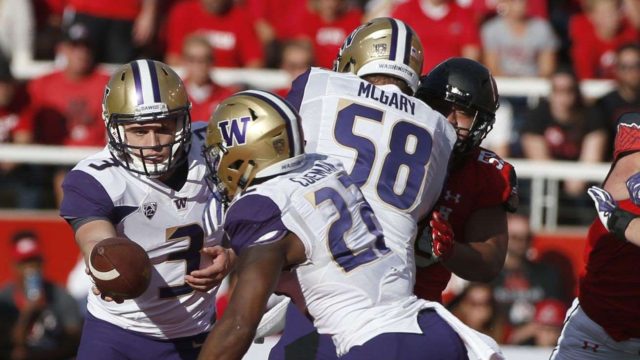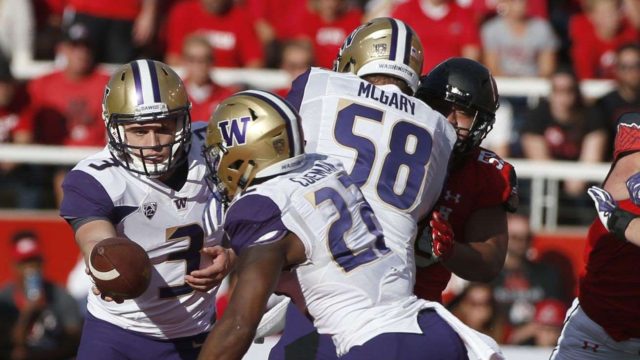 Huskies salvage pride with come behind victory against Utah
QB Jake Browning and kicker Tristan Vizcaino both found redemption in a game that they could have easily become the point of blame. All it took was a crazy last 58 seconds of Saturday's game, against Utah Utes, to see the Washington Huskies top the Utes 33-30.
The game woudl be won by Tristan Vizcaino (who had been blamed for the loss against Arizona State) had a poor showing by missing a 30 yarder and an extra point. But with 8 seconds left in the game Vizcaino would trot back out on the field and hit the game-winning field goal.
"IT IS GOOD! Washington has won it at the buzzer!" – Bob Rondeau#PurpleReign https://t.co/EwiDQE2Kms

— Washington Football (@UW_Football) November 19, 2017
"I was exciting running out there, excited for the opportunity," Vizcaino said. "It's a huge deal. I've let my teammates down a couple games in the past and being able to bounce back and maybe make it up to them tonight, it meant a lot to me. … One of the best feelings you could have as a kicker, if not the best."

https://twitter.com/UW_Football/status/932154513133248512
Jake Browning had a statistically outstanding game gong 26-35 for 354 yards and 2 TDs, however, during the 4th quarter, Jake made some boneheaded plays that lead to sacks and stalled drives. Somehow Jake flipped the switch and took over in the last two possessions leading to a TD and the game winning FG. Browning would go 7-11 for 108 yards when it mattered the most.
"I've had some bad ones when we lose in the last two minutes of a game so I try and forget about that," Browning said. "But I don't even know one specific thing. Just how it all went."
On the same night that Jake Browning would set a record, Myles Gaskin would set a record of his own. With a touchdown run, Gaskin passed Bishop Sankey for the all-time lead in career rushing touchdowns.
Record.

Myles Gaskin is Washington's career leader in rushing touchdowns.#PurpleReign pic.twitter.com/fzMev6yuHa

— Washington Football (@UW_Football) November 19, 2017
The Dawgs did not get any help from Cal as they would lose to Stanford earlier on in the night. The Huskies are officially eliminated from the Pac-12 title and will only have pride to play for at this point. The Apple Cup next week will be the Huskies opportunity to knock the WSU Cougar out of the title hunt.
Feel free to comment below if you have something to say and be sure to join the SSU community by liking us at Facebook at SeattleSportsUnion.
Follow us during games on Twitter @SeattleSportsU and watch us Sundays at 8:00pm (PST) on YouTube, as we discuss all things Seattle sports.