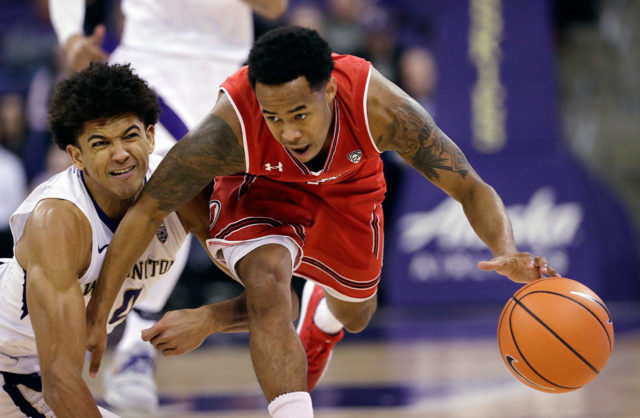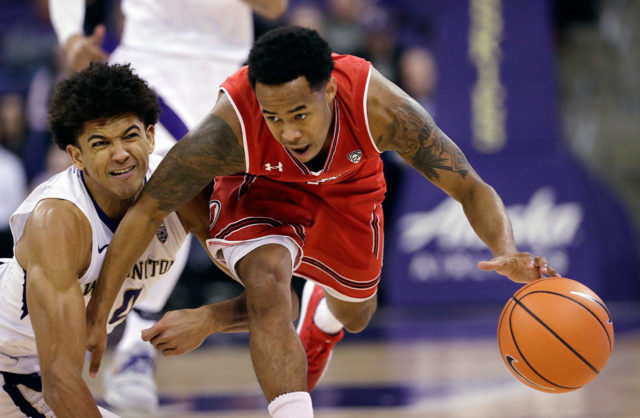 Huskies drop 3rd straight, lose to Utah 70-58
After getting swept by the Oregon schools, the Washington Huskies dropped a 3rd in a row to the Utah Utes, losing 70-58. the Husky shooting was quiet on the evening. David Crisp had 18 points but was the only player in double figures for the Dawgs.
"Stay together. We gotta be together. We're not as together as we need to be," Huskies junior guard David Crisp said after the Utah loss. "We hit adversity, we have to come together closer. It's not that we're shying away from each other … we're not coming together as much as we did before. We gotta get back to that and know we got each other's back."
Watch: Nahziah Carter throws down crazy dunk, is not of this world https://t.co/SVePKn5lJB via @upisports

— Abraham DeWeese (@AbrahamDeWeese) February 17, 2018
Utah, had only shot just 27% in the first half. But as has been consistant over these 3 losses the Husky 2-3 defense broke down as the Utes made 11 of its first 15 shots after the break to push the lead to 51-40.
"You hold a team to 27 percent, you're doing a good job and then the team comes out and has 70 (percent) in the second," Hopkins said. "The last two halves we've played …. that's not acceptable. You're not going to win. Reason why we were winning was because we were the No. 1 defensive team in the league. Seventy percent is not going to get it done."
The Huskies hopes for an NCAA tournament berth may hinge on their final four games. The Dawgs will need to get over the hangover of beating Arizona and Arizona State back to back and beat the teams that they are supposed to beat. Unfortunately, the Dawgs are on the road at Stanford and California, then home against Oregon State and Oregon. Three of those teams have beat the Huskies this season.
"They executed down the stretch when we didn't," Washington coach Mike Hopkins said after the game. "It's one of those things, you know you have an eight-point lead and it disappears in how long? You're watching it and you know you're trying to pick up the pieces and trying to regroup. You're trying to put different guys in, you're looking for energy. "
Feel free to comment below if you have something to say and be sure to join the SSU community by liking us at Facebook at SeattleSportsUnion.
Follow us during games on Twitter @SeattleSportsU and watch us Sundays at 8:00pm (PST) on YouTube, as we discuss all things Seattle sports.