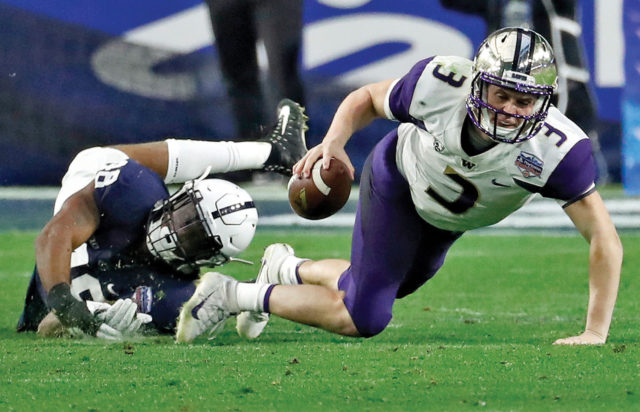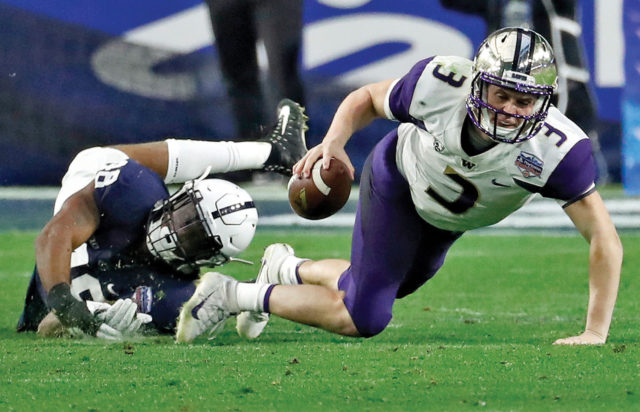 Huskies come up short against Penn St in the Fiesta Bowl, lose 35-28
#9 Penn State outlasted #12 Washington 35-28 in the Fiesta Bowl on Saturday. The Nittany Lions jumped all over the Huskies early going up by a score of 28-7.  The Nittany Lion QB Trace McSorley picked Washington's secondary apart, hitting nine receivers for 219 yards in the first half. And NFL bound Saquon Barkley showed his talents with a 137 of the Nittany Lions' 203 yards rushing and two touchdowns.
The Huskies finally woke up in the 2nd half and mounted a furious comeback that included a 69 yard direct snap run by Myles Gaskin.
WOOF.

Gaskin takes it to the 🏠!#PurpleReign pic.twitter.com/EPeZjKs8yX

— Washington Football (@UW_Football) December 31, 2017
Hook and ladder
After a missed field goal opportunity, UW had a chance to march down the field to tie the game. With time running out a Hook and Ladder pass to Dante Pettis would see a confused give up a large chunk of ground only to see an error by the senior that would end the game. With 8 seconds left, Pettis elected to throw a back pass rather than step out of bounds. The back pass would be recovered by Penn State and end the game.
While there was no guarantee that the final play–most likely a Hail Mary–would've succeeded one does wonder "what if." The play by no means diminishes his prolific career in what will be his last game in the Purple and Gold.
Dante Pettis would probably like to have that lateral back pic.twitter.com/fkoEPRsVpA

— Sports Illustrated (@SInow) December 31, 2017
Attention Dawg Fans!
Legendary Husky announcer, Bob Rondeau retired at 67 years old.  The exciting game may have had less than favorable results, but it was a pleasure to listen to the living legend on the radio one last time.
"If you're expecting something hugely profound here, my apologies in advance," he led off.

"What is hugely profound is my appreciation," he continued, thanking all who had worked with and listened to him through the years. He also gave a shout-out to his successor, Tony Castricone, and thanked the university for "letting me be me." All in all, his goodbye lasted all of about a minute.

"As much as we would like to build a fence around forever, it doesn't work that way," Rondeau said. "And thus we move on … I have had absolutely the time of my life, and I look forward to seeing you down the road."
LISTEN: Bob Rondeau signs off for @UW_Football one last time. #ThanksBob pic.twitter.com/FWf3KbFJjJ

— IMG Audio (@IMGAudio) December 31, 2017
Dante Pettis would probably like to have that lateral back pic.twitter.com/fkoEPRsVpA

— Sports Illustrated (@SInow) December 31, 2017
Feel free to comment below if you have something to say and be sure to join the SSU community by liking us at Facebook at SeattleSportsUnion.
Follow us during games on Twitter @SeattleSportsU and watch us Sundays at 8:00pm (PST) on YouTube, as we discuss all things Seattle sports.