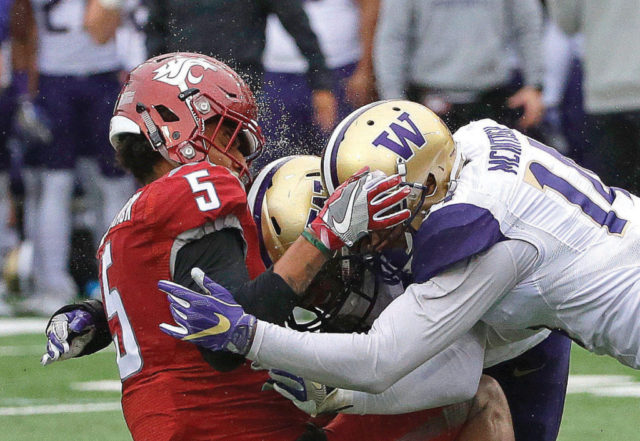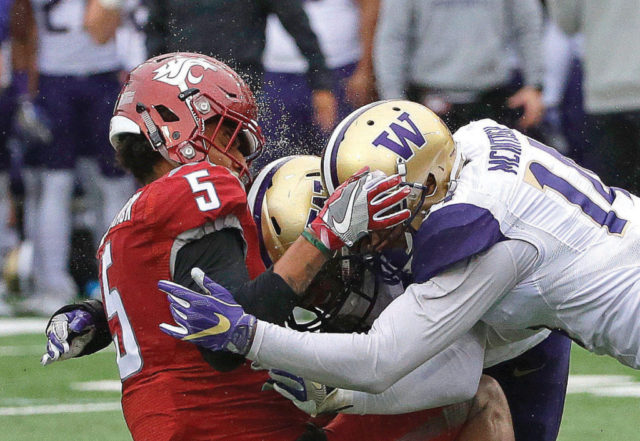 Houses divided as Apple Cup has title implications
2017 has brought us a showdown of two nationally ranked teams in a showdown for pride and a potential Pac-12 championship bid. The Apple Cup will see the #13 Washington State University Cougars try to secure a Pac-12 North championship versus a #17 Washington Huskies playing the part of spoiler.
A rivalry born in 1900, pits east versus west, red versus blue (er purple), rural versus urban, friend vs friend, and brother vs brother the Apple Cup has hosted wild results and more recently has shaped major bowl seedings. It was just last year that the #5 Huskies and the #23 Cougars played for the Pac-12 North title. The Huskies would win in a blowout, then take the Pac-12 title, and earn a Playoff bid. Washington holds a 71-32-6 all-time record but as any good rivalry game stats and records matter little as the Cup is a de facto bowl game.
From the beginning of the 2017 season everyone sensed that this game would decide the Pac-12 title. While it did not turn out as well for Husky fans, UW head coach Chris Petersen doesn't view the season as a disappointment.
"People don't know how difficult 9-2 is. They don't know. It is hard," Petersen said at a press conference. "I don't know if it's the College Football Playoffs, but it's just expectations. That's one of the hard things in this whole thing is just managing expectations."I say it a million times: Nobody has higher expectations for us than us."
WSU's head Coach Mike Leach knows what is at stake but he isn't treating this game any differently.
"You do your best all the time, so there really hasn't been any holding back, effort, focus with regard to our team," said Leach. "So it's not like there's some extra private reserve in the cellar of the bank that we are able to draw from because all the sudden, this is a game that gets a lot of attention around here."
Key to the game
What can Luke Falk do to this Husky defense? This year UW has allowed only 168.4 yards passing per game–simply stunning. However, the Huskies have not faced a passing game like WSU's. The Pac-12 leader in touchdowns, Falk is an NFL talent and wants to put the exclamation point on his career. So will a defense missing several key DBs be up to the task of stopping Falk?
Dante Pettis is UW's only threat in the passing game. Will Pettis get the bulk of targets from Jake Browning or will UW continue to spread the ball around? Pettis can tilt the field in the passing game and on punt returns (he holds the all-time NCAA record for punt returns for tds at 9). He is a game changer, and WSU will put all their effort to shutting him down with double coverage. Also, dont expect Mike Leach to punt to him any time soon.
UW can't make field goals. Tristan Vizcaino and Van Soderberg have been exceptionally poor at putting them thru the uprights. UW is a combined 11-20 (55%) this year and 5-12 over 30 yards.  Close games against Arizona State and Stanford were lost due to failures in converting easy points.
SSU Prediction
UW is favored by 10.5 points. I think that is incredibly high. This is almost a coin flip game, if WSU wins it is not an upset. I see Falk putting up fireworks in the air; however, UW will counter with ground and pound with RB Myles Gaskin. UW however, will be betrayed by their field goal kicking and end up going for 4th down conversions. Cougars win 30-28.
Feel free to comment below if you have something to say and be sure to join the SSU community by liking us at Facebook at SeattleSportsUnion.
Follow us during games on Twitter @SeattleSportsU and watch us Sundays at 8:00pm (PST) on YouTube, as we discuss all things Seattle sports.