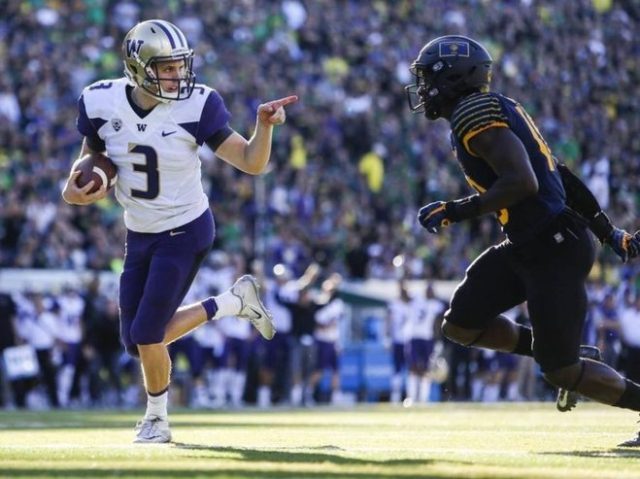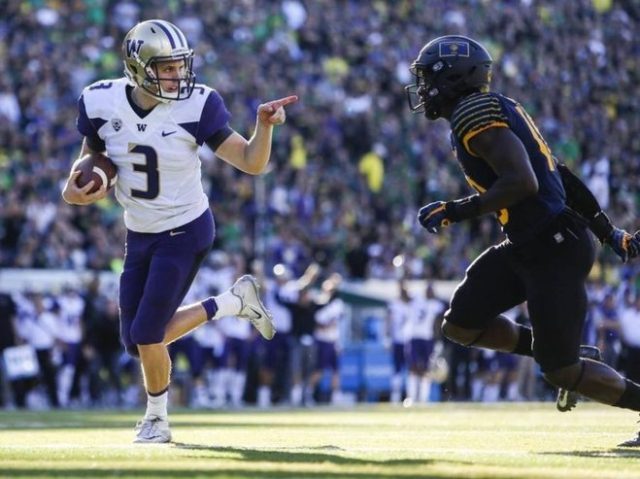 High scoring Ducks out to test UW's defense
The Oregon Ducks come into Seattle to test the mettle of the #12 Washington Huskies defense. Last year, the Huskies ended a 12 year drought versus the Ducks with an emphatic 70-21 beat down of Oregon at Eugene.
This year's game will be in Seattle and presented as the Pac-12 After Dark" game of the week. After losing to Arizona State a couple weeks ago, the college football playoffs are a mere dream, what is important is establishing northwest dominance. While last year's game saw a "lame duck" coach on his way out, we can expect a more inspired fresh Oregon team put up a fight.
Oregon on offense
1st year had coach Willie Taggart has the Ducks at 5-4 and poised to get back to a bowl game. Oregon's hopes could rest on superstar QB Justin Herbert who may make a return in this game. Herbert went down for 4 games due to a collarbone injury. It is no coincidence that Oregon lost 3 of those games; Herbert had passed for 1,264 yards, 9 TDs and 2 Ints prior to the injury.
Oregon on defense
Oregon's defense is still a problem. The Ducks have the 99th ranked passing defense and if the Huskies are to win, they will need to exploit that defense. Jake Browning has had a couple of off games against ASU (where the Devils game planned and executed a perfect game) and UCLA where he only attempted 11 passes due to a porous UCLA run defense. This could be the kind of game to kick Browning out of his funk.
Key to the game
Oregon will rely on running back Royce freeman who as a senior has 1,096 yards in 9 games. Considered to be a sure 1st or 2nd round NFL pick, Freeman has 10 TD's and averages 6 yards per carry. The Huskies have the #1 rated run defense in the Pac-12 and if Oregon is to compete, they will need the arm of Herbert to open up lanes for Freeman.
SSU Prediction
UW wins a close one in a track meet 42-40. Expect Herbert and Browning to put up some highlight reel passing numbers.
Feel free to comment below if you have something to say and be sure to join the SSU community by liking us at Facebook at SeattleSportsUnion.
Follow us during games on Twitter @SeattleSportsU and watch us Sundays at 8:00pm (PST) on YouTube, as we discuss all things Seattle sports.