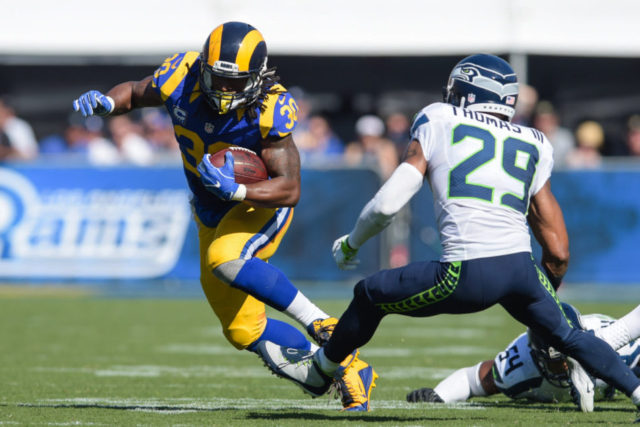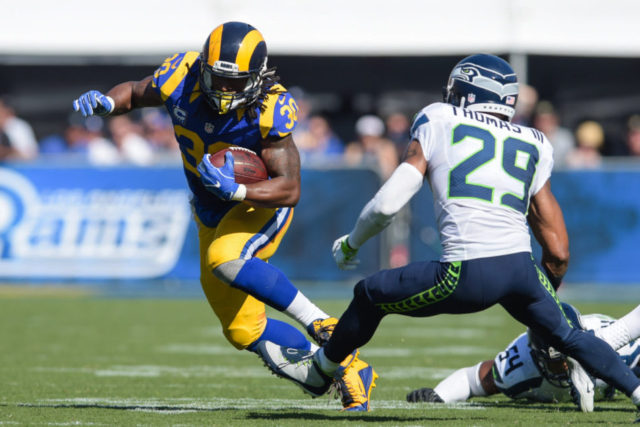 Hawks take on the #1 offense in the NFL, Sean McVay's LA Rams
The mighty LA Rams (yes you heard me right) host our Seattle Seahawks and to break the news to you, these aren't your feckless Jeff Fisher Rams, these are the high-scoring and bone-crunching Sean McVay Rams. The 30 year old coach scores in bunches and his defense lays the lumber on opponents to the tune of a division leading record of 3-1.
Keys to Ram's offense
This is the #1 scoring offense in the NFL after 4 games. We can not call it a fluke at this point and when we point to the keys of the offense we point to big time performers at several positions.
Left Tackle is the main cog in this machine. A big free agent signing, the mammoth lineman has protected QB Jared Goff's blindside allowing last year's 1st round draft pick the pocket needed that 80% of the league desperately desires. But he isn't just a masher, the 35 year old is a leader.
"He plays well himself," Rams line coach Aaron Kromer said, "but he also helps the other guys just understanding the game plan and understand what they need to get done."
Running back Todd Gurly has to also get some praise as his 362 yards and 4 touchdowns deserve some credit. Gurly is a unique talent that elite back that can carry the load and beat you with toughness, speed, and style.
An finally not to be discounted are the addition of a trio of receivers in Sammy Watkins, Cooper Kupp, and Robert Woods that has given Goff a talented corps of options that he just flat out didn't have last year.
Keys to Ram's defense
Aaron Donald and Robert Quinn man an outstanding defensive line, but I would like to direct Seahawks fans to corner back Trumaine Johnson. The 6th year back out of Montana has had a stellar year with 4 passes defended and an interception. In last week's win over the Cowboys, Johnson stopped Dez Bryant again and again.The X Factor
Without Chris Carson and no CJ Prosise at running back, the Hawks need someone to step up. Be it Thomas Rawls or Eddie Lacy, someone has to decide they want to lead this running back corp.
If Rawls and Lacy struggle, expect the hawks to turn to Russell Wilson to take over the show. And perhaps that would be a good thing. The threat of the QB run will force the Rams to put a spy on him and thus open up the passing game.
Notable stat
Paul Richardson has 9 1st downs. While he has only 11 receptions he has been going deep on routes which is right where the Hawks need him. with a 15.7 yards per reception, Richardson is showing quick strike capability. The only problem is that he only has 11 catches on 22 targets, which is not a good ratio.
SSU prediction
I know all of you are going to hate me, but I see the Seahawks getting a dose of reality losing in a shootout. The 35-32 score I envision is less an indictment on the defenses of these teams as I expect both defenses to get in on the scoring with pick 6's and game changing turnovers.
Feel free to comment below if you have something to say and be sure to join the SSU community by liking us at Facebook at SeattleSportsUnion.
Follow us during games on Twitter @SeattleSportsU and watch us Sundays at 8:00pm (PST) on YouTube, as we discuss all things Seattle sports.