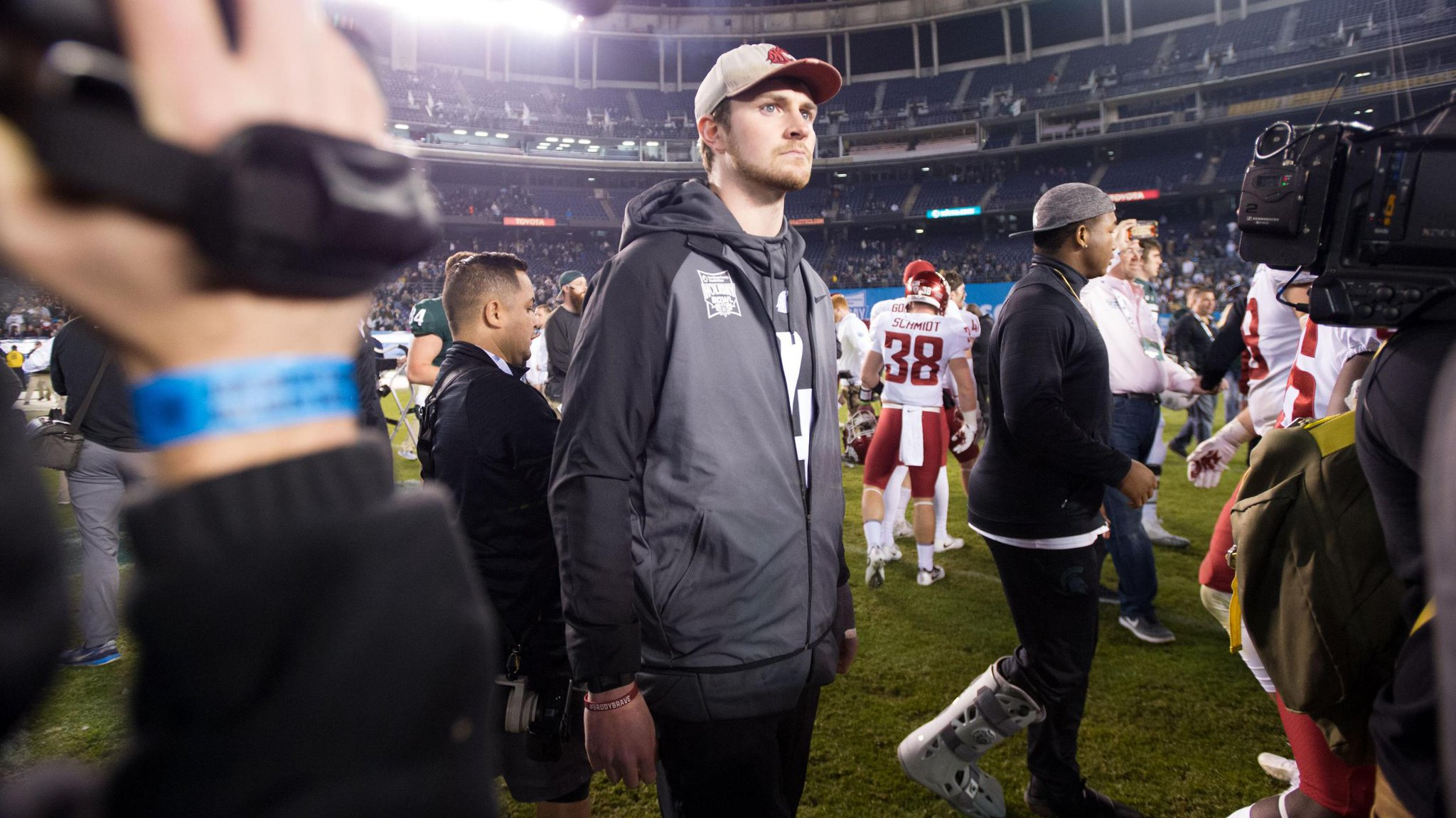 Washington State qualified for the Holiday Bowl for their 2nd straight year. Holiday Bowl officials probably were wishing they hadn't selected them after their 2nd straight embarrassing loss as the Spartans of Michigan State blew out the Cougars 42-17 in a game where the Cougs lead early and then gave up. Washington State was completely over-matched on both sides of the ball, especially on defense where the defense was tired by the 2nd quarter and never recovered.
Both teams came in highly ranked with identical records of 9-3. Washington State senior QB Luke Falk showed up in uniform during the pregame warmups with a brace on his left wrist. People were wondering what had happened, will he play? Once the Cougs ran onto the field just before game time, Luke came out in street clothes and Falk's career as a Cougar was officially over. Tyler Hilinski was named starting QB for the Cougs just before kickoff. Cougar nation was worried, what happened to their Golden Child? It turns out, we may never know.
The worst part of Washington State's loss in the #HolidayBowl wasn't necessarily the score, says @cougsgo — it was the charade involving Luke Falk. https://t.co/F9TN9Sr0Js pic.twitter.com/kZQlMrQCaU

— 710 ESPN Seattle (@710ESPNSeattle) December 29, 2017
In the first quarter Tyler moved the Cougs on a long drive that ate up some of the clock, but he failed to get them in the end zone, so they settled for 3 points and an early lead. The so called "Speed D" held their own against the bigger Spartans in the 1st quarter without their star defensive lineman Hercules Mata'afa who had to sit out the first half due to his targeting call in the Apple Cup. Cougar nation was worried that bad things might happen without their Hercules making his presence known on the field. It turns out they were right because the 2nd quarter turned into a nightmare. Spartans scored 21 points on big play after big play. The "Speed D" looked like the "Lost D" as they looked confused and they began to get worn out as the Spartans offensive line was far superior to our defensive line. On offense, Wazzu could not move the ball in any aspect as Tyler Hilinski failed to throw the ball downfield and kept settling for the short passes. Michigan State was licking their chops as they were able to stop pretty much the Cougs for short yardage on every play.
Touchdown MSU! Lewerke with a 49-yard TD pass to Felton Davis III and Coghlin's PAT is good. MSU 14, WSU 3. #HolidayBowl #GoGreen

— Spartan Football (@MSU_Football) December 29, 2017
In the second half, we saw the return of Hercules. He made his presence known as he had sacked the QB for an early 3rd quarter loss of yardage, but that was the only excitement. Michigan State outscored the Cougs 21-14 in the 2nd half including a TD run by their backup QB. The defense continued to look lost and tired. They did manage an interception against the backup QB of the Spartans but otherwise WSU never had a chance. The TDs they got were in garbage time. Hats off to the Michigan State Spartans as they showed up to play on both sides of the ball and gave their head coach his 100th career victory. They finished the year with a 10-3 record, while the Cougars finished with a 9-4 record going 3-4 over their last 7 games.
HERCULES!! Mata'afa with the sack! #GoCougs pic.twitter.com/qDQqWn6X5j

— WSU Cougar Football (@wsucougfb) December 29, 2017
Here are 3 observations I had on the Cougars final game the 2017 season:
Were their any Wazzu players that stood out?
Running back James Williams had a breakout game. He had 10 catches for 65 yards, but he looked good doing it. Do to injuries, he got lots of playing time. He blocked well and ran his routes well. Going into next season, he should be considered the starting running back.
James Williams had 10 catches in the @HolidayBowlGame and finished the year with 71 catches, most by a running back in WSU single-season history#GoCougs#AllPurposeAllTheTime pic.twitter.com/CKfg0JCRmT

— WSU Cougar Football (@wsucougfb) December 29, 2017
Wide receiver Tay Martin had a good game as well. He finished with a respective 7 catches for 51 yards and 2 touchdowns. On paper, it was an amazing game going into the off season possibly as the new number one wide receiver. He finished the season with 6 touchdowns, a record for Wazzu wide receivers. He also has some maturing to do. He did commit 2 penalties that may not have affected the final score, it did factor into the game. This can't happen moving forward and I hope he learned from his mistakes.
Tay Martin with his second TD of the night! #GoCougs pic.twitter.com/L7Oxyx8svZ

— WSU Cougar Football (@wsucougfb) December 29, 2017
Is this the end of the drama in Pullman?
With Mike Leach as coach, we can't predict that their will never be drama with this football program within these last 4 weeks I have never seen so much drama. With Mike Leach possibly leaving, defensive coordinator Alex Grinch possibly moving to Ohio State, their top 2 wide receivers getting kicked out of the program, and hiding Luke Falk's injury, this was enough drama to last a lifetime. In fact, they might have had a psychological effect on the outcome of the football game. Defensive Coordinator Alex Grinch certainly showed us that this may have been his last game with that unimpressive performance. Moving forward, the future looks bright for WSU because they have Mike Leach as a mainstay for WSU football. They brought in an outstanding recruiting class, perhaps his best one yet. I'm sure we will have his usual Mike Leach shenanigans but as for drama I think they learned their lesson to not have so much at one time anymore.
Can confirm Alex Grinch is a candidate for Ohio State's 10th assistant coaching position. If he leaves Pullman, I believe this is the job he takes. Grinch is from the Columbus area and went to Mount Union. #Bucks #Cougs

— Evan Closky (@KREMEvan) December 15, 2017
What's the status of Luke Falk?
We all wonder what happened to Luke Falk and his left wrist injury. We may never know the whole truth. We may never know the reasons why he regressed this season. But we do know one thing. He etched his name into the Cougar Hall of Fame for his career in Pullman. Breaking all the records was impressive, but how he turned around Cougar football and his quiet leadership on and off the field is what we admired. We truly hope you will be OK and that the injury doesn't affect your draft status.
— Daniel Jeremiah (@MoveTheSticks) December 29, 2017
This was a fun season Cougar nation. We saw the Cougars start out 6-0, get as high as 8th in the college football rankings, saw them lose 4 out of their final 7 games, including blowouts in the Apple Cup and the Holiday Bowl. We got to see our leader Luke Falk break all the Pac-12 records and we saw a Hercules dominate opponents all over the field. We saw the loss of our Athletic Director and almost our head coach, but the future looks bright. Thank you, Washington State University, for an amazing season. Cougar Nation can't wait until next September when we start the 2018 season. It will be a whole new team with new leaders on offense and defense.
Happy New Year and Go Cougs!
Feel free to comment below if you have something to say and be sure to join the SSU community by liking us at Facebook at SeattleSportsUnion.
Follow us during games on Twitter @SeattleSportsU and watch us Sundays at 8:00pm (PST) on YouTube, as we discuss all things Seattle sports.