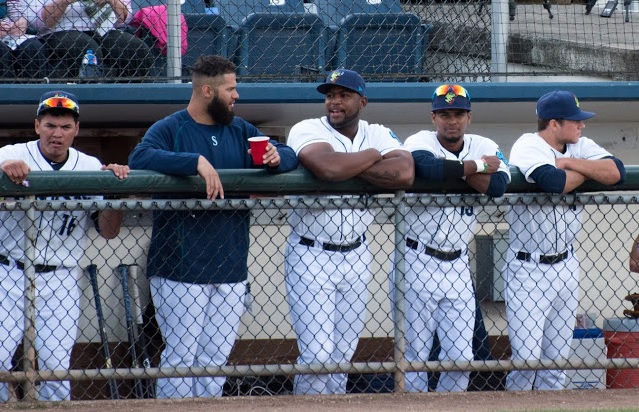 Johmbeker Morales is the Everett AquaSox slick fielding infielder and a driving force who helped lift the AquaSox win the Northwest League North division. This Wednesday, Johmbeyker will help the Frogs fend off the Spokane Indians for a 3 game series as they march on into the playoffs. The Seattle Sports Union caught up to Johmbeyker and got an interview with him.
<interview translated by Dimas Ojeda>
SSU: What is it like to play so far away from home in Venezuela? To be in Everett?
Johmbeyker: It is a beautiful thing to be able to come here and play baseball. I love that the town has accepted me. One of the greatest opportunities ever. God has blessed me for my success.
SSU: Is Everett the first place you played professionally?
Johmbeyker: My 1st year was in Venezuela, then the Dominican league. Last year, I was in the Arizona League and now this year in Everett.
SSU: How did it feel to be selected to be a Mariners?
Johmbeyker: I trained in Venezuela , they saw me practice and told me to take a shower and a break. My dad was with me and when I went outside, I saw my dad with tears of joy and asked him what was going on. He told me that I was asked to join the Mariners. It was amazing.
SSU: Felix is from Venezuela, is he your hero?
Johmbeyker: Miguel Cabrera is also from Venezuela and both are my heroes.
SSU: Any major league player you model your game after?
Johmbeyker: I try to model my game after Alex Gonzales. I try to emulate him.
SSU: What is your best aspect to your game? Speed, Arm, Bat?
Johmbeyker: Has to be my defense. I am hungry on defense, I am not afraid to back down from anything.
SSU: Did you get a chance to speak with Mariners shortstop Ketel Marte when he made an appearance in Everett? Did you get any tips on how to make it in the pros?
Johmbeyker: I actually got a chance to play with him before Everett. Marte saw him one time after an at bat. I got frustrated. Marte came up to me and said
"hey, it is fine. Everyone knows you can hit. The important thing is your character and how you handle the situation. As long as you can handle the situation with grace you will be fine, because everyone knows you can hit."
SSU: How is the adjustment coming from a Venezuela and getting around Everett?
Johmbeyker: Language barrier is tough. And also, there are a lot of problems in Venenzeula politically, so it is kind of hard when there are so many problems over there.
SSU: Do you talk to your family a lot in Venezuela.
Johmbeyker: Yes, everyday.
SSU: How do you get past all the concerns back home?
Johmbeyker: The purpose that I am here is to make life easier for my family back home.
SSU: What do you think of when you are up to bat? How do you get ready?
Johmbeyker:  In my head, I think of the best pitch that pitcher has and how I am going to respond.
SSU: What is it like to go to the playoffs?
Johmbeyker:  It is an amazing feeling! I went to the playoffs last year in Arizona, and when you win it brings all the people together in the clubhouse.
SSU: Who is the most inspirational person to you here on the AquaSox?
Johmbeyker: Donnie Walton.  Donnie and I have the same attitude. Donnie has the hunger and is aggressive. If something goes bad, he wont worry about it.
SSU: Favorite sports movie
Johmbeyker: 42—Jackie Robinson
SSU: What is next for you?
Johmbeyker: Bakersfield.
Feel free to comment below if you have something to say and be sure to join the SSU community by liking us at Facebook at SeattleSportsUnion.
Follow us during games on Twitter @SeattleSportsU and watch us Sundays at 8:00pm (PST) on YouTube, as we discuss all things Seattle sports.