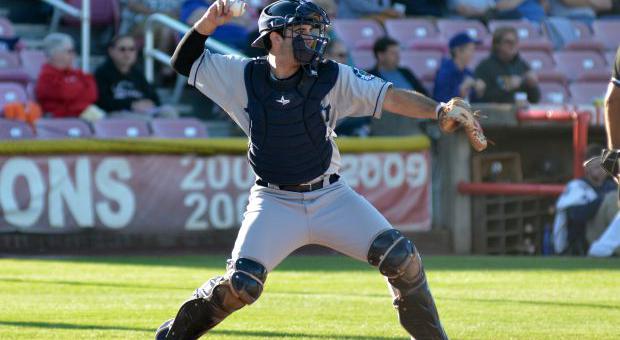 Everett AquaSox Spotlight: Jason Goldstein
Jason Goldstein was promoted part way through the season from the Arizona league down in Peoria. Drafted in the 9th round this year by the Mariners, he hails from Illinois and is a spectacular defensive catcher. SSU had a chance to "catch" him and get him to open up a bit.
SSU: Obviously the AquaSox are your favorite team right now. But did you have a favorite one growing up?
JG: I grew up a Cubs fan. I grew up on the north side of Chicago.
SSU: Was there any player on the Cubs you grew up looking to emulate or look up to?
JG: Not really. The Cubs never really had a big name catcher, so I never really found that person. I liked watching Rizzo play or Bryant play, but catching wise I always went with Yadi(er Molina) and guys like that.
SSU: When did you know you wanted to be a professional ball player?
JG: Growing up, it was my favorite sport, and I was passionate about it. I enjoyed working hard at it. Honestly, who doesn't want to play a sport for a living? It's everyone's ultimate dream to do what they love to do for a career. Fortunately for me, the Mariners gave me a chance to possibly do that.
SSU: You attended the University of Illinois, going for an industrial engineering degree. Is that something you hope to get back to, 40 years from now after a successful major league career?
JG: Its a marketable degree for a lot of different fields and honestly, just going into college I was good at math and science. Engineering was a tough school to get into, so why not go for it? There is a mathematical and analytical side to it, and I think working in baseball after I've retired would be awesome. Working in a front office or GM position would be an ultimate goal down the road.
SSU: I did a little bit of reading on industrial engineering, as I wanted to find out what kind of engineering it exactly was. Turns out, it's focused on optimizing and streamlining processes. Do you apply that kind of thinking to how you play and approach the game?
JG: Obviously you want to optimize the performance from the mound, get as many people out on few pitches as possible, but I think having a math and science brain, engineering teaches you a lot of critical thinking. I do try to apply that to how I play the game.
SSU: You opened the season down in Peoria in extended spring training, for rehab. What did they have you do down there?
JG: I hurt my hamstring in March, playing in college. Took a week off, and kept playing through the year. It started to feel better towards the end of the season but it wasn't fully healed so they sent me down there to kind of ease in. I basically did nothing for a week, then 2 weeks before I started any physical training, then another 1-2 weeks before I started playing in any games.
SSU: I noticed you're listed as calling the games as a Fighting Illini. Is that rare at that level?
JG:  Very rare. The coaches usually call the games. The pitching and head coaches had experience
Feel free to comment below if you have something to say and be sure to join the SSU community by liking us at Facebook at SeattleSportsUnion.
Follow us during games on Twitter @SeattleSportsU and watch us Sundays at 8:00pm (PST) on YouTube, as we discuss all things Seattle sports.