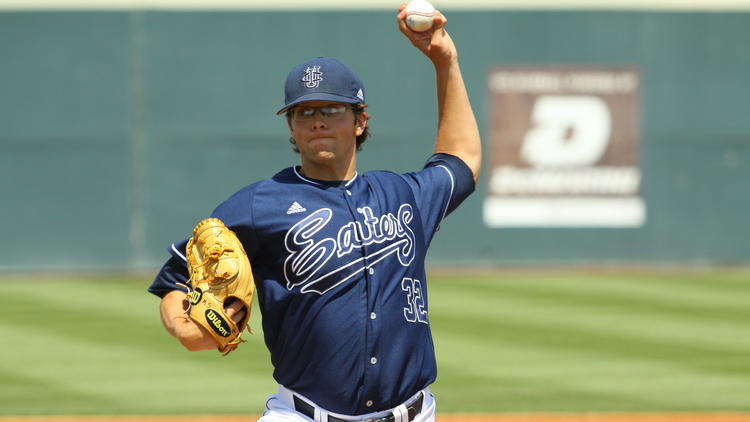 Everett AquaSox Spotlight: Elliot Surrey
Elliot Surrey was been a quiet force for the bullpen this season for the AquaSox. He proved to be a versatile lefty coming in to all sorts of situations and difficult spots. The soft-tossing lefty hails from UC Irvine and is a proud former Anteater. SSU was lucky enough to chase him down this year and get the chance to know him a little better.
SSU: So you were drafted in the 26th round out of UC Irvine. Did you finish school or come out early?
ES: I played all four years there, but I still had a little bit of school left.
SSU: I did a little bit of internet sleuthing on you, and came across a Vimeo account created by you. You created some videos for UC Irvine Baseball. They were pretty amazing. Do you have plans on exploring that further, maybe after your career?
ES: Thank you. Yeah, I think that's kind of the plan. Once baseball is over, even during the offseason too, to try and take advantage of the down time. You cant make baseball a 24/7 thing or you'll start burning yourself out. But yeah, I think it'd be a good thing to get into even during the season to keep my mind off things, even when they aren't going well.
SSU: Even as just a hobby or something…just to keep the juices flowing?
ES: Yeah the creative juices, its always good to keep that part of the mind flowing. Especially as a pitcher. For me, I feel like I have to get creative on the mound, as I'm not necessarily going to be out there blowing 98 mph fastballs past people. So I have to be a little bit more creative with my pitches…be crafty. Try to keep those creative juices flowing to help out.
SSU: You're working out of the bullpen at the moment. Do you envision yourself staying there?
ES: I'll do whatever they tell me to do, really. Everyone wants to be the starter, that's kind of the goal I've set for myself. Maybe not this season, since it's short-season but at some point in the long haul. But at the end of the day, it's just pitching. Even if it's just coming in as a lefty specialist getting lefties out, whatever helps the team win I'm up for.
SSU: Will you be in tonight?
ES: No, I pitched last night. It…wasn't my best outing.
SSU: Oh?
ES: Everyone get those….but a huge thing I take pride in is work ethic. Trust the process, getting after it and it'll help you get through and improve on your next outing.
SSU: When you have one of those outings, like you said…when you're walking back to the dugout, what kind of mentality do you take?
ES: It's more not that I let myself down, its more that, like yesterday I let the team down. When I did come in it was a tie game, and I gave up some costly runs in the 7th. I feel like I let everyone else down on the team.
SSU: How do you manage that? How do you bounce back?
ES: Its just letting your work do all the talking. Blowing off your steam in the weight room, and just keep getting after your work. If you drop your head coming off the mound and let it get to you…you'll start trying to tweak things when you shouldn't and it can cause things mechanically.
SSU: So it sounds like it's more pressure to be a reliever than a starter from what you're saying.
ES: For a reliever, its our job to make sure we save the game for that starting pitcher. Especially if he puts in 6-7 innings of a quality start, its up to us to secure the win.
SSU: What's your greatest strength that you bring to the team?
ES: I think my positive attitude. I try to convey positivity even through body language. Maintaining poise, even after I let up a home run or strike out the side. Letting everyone see I maintain a professional attitude even if it's not the other players and just the kids in the stands. I take pride in bringing a positive attitude and body language and being a good teammate. Picking up others when they're down and things dont go well. 
SSU: Growing up in Southern Cal, how are you adjusting to our wonderful inconsistent summers here in the pacific northwest?
ES: Well I actually did get a chance to play up here in summer ball in college. I played in Corvallis, and they played teams up in Wenatchee and Walla Walla, so I've played up here before. So I'm kinda used to playing out in an environment like this.
SSU: What about the rain? Does it change things for you?
ES: That's one of the things I actually have had to get used to, because in southern California….I think we had 1 rain-out total. I did have to pitch in a game here and it rained, and that was a challenge. You have to try and not think about it, obviously. But it can get in your head, thinking about the ball being wet and if they bunt it the grass will be slippery. So you have to be careful. But you just have to put that stuff out of your mind.
SSU: Do you think the weather impacts the pitcher or the hitter more? Who has the advantage?
ES: I guess it all depends on the field. If it's an all-turf field and the only thing dirt is the mound then I think the pitcher's at a disadvantage cause the cleats are going to get muddy. But I think it's mostly even.
SSU: What's your favorite sports related movie?
ES: Oooh, tough one. I have two, I guess. For Hockey, it's Slapshot. If I had to pick a baseball movie it'd be either Major League or the Natural.
Final Note: I didn't receive permission so I wont directly link it here, but as of this posting, a quick Google search for Elliot's name will result in the Vimeo account in question. Check it out, as he's quite talented!
Feel free to comment below if you have something to say and be sure to join the SSU community by liking us at Facebook at SeattleSportsUnion.
Follow us during games on Twitter @SeattleSportsU and watch us Sundays at 8:00pm (PST) on YouTube, as we discuss all things Seattle sports.