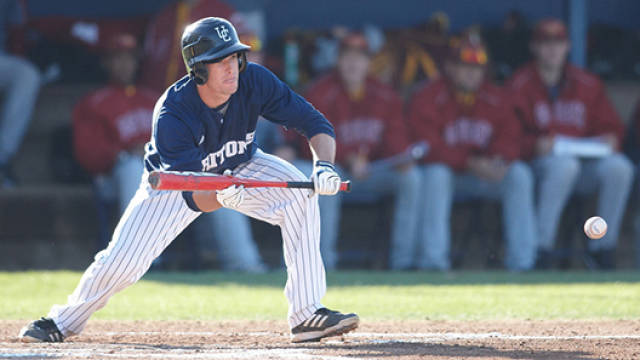 Everett AquaSox Spotlight: Dillon Moyer
Dillon is a recent addition to the AquaSox family, joining the team in early August. He's a recent convert to pitching, after starting his career and spending college as a shortstop. His father Jamie was a long-time fan favorite for Mariner fans and Seattle Sports Union was able to catch up with Dillon recently for a quick chat.
SSU: So you began your career playing shortstop?
Dillon: Yeah, I played shortstop through college and then 3 years with the Dodgers organization.
SSU: So you played shortstop for all those years, and then at some point you made the change to pitching. Was it a personal decision, or did someone from the organization suggest it? How did that change happen?
Dillon: It kinda just happened. I was playing short, and our bullpen was shorthanded one day. I had to throw because we needed a pitcher and we were getting blown out. I threw well, I guess. They liked it, so they decided to have me try it.
SSU: So it just kinda worked so well they had to see more.
Dillon: Yep, exactly.
SSU: What kind of pitcher would you say you are? A strikeout guy or more of a crafty kind of pitcher?
Dillon: I'm still trying to figure that out. I'm new to it, so I'm trying everything. Obviously strikeouts are big, and the Mariners are big on strikes in the zone. They have a counter for first pitch strikes in Safeco, so it's really their big emphasis. Use your defense, try and get back to the dugout efficiently.
SSU: Is your dad giving you any tips/advice or coaching?
Dillon: Oh yeah. For sure, this offseason I threw a lot with him. He has a mound in the back yard, so I learned a lot. I pretty much throw all the same pitches that he threw with the same grips.
SSU: Must be nice to have your own pitching coach.
Dillon: Oh definitely. It's nice to talk to him after a game, to get pointers and criticisms. It definitely helps.
SSU: What led you to play Shortstop? What did you enjoy most about the position?
Dillon: The action. I loved being involved in almost every play. You feel like a free safety out in centerfield, roaming too much. But at short it was a pretty athletic position. I miss it for sure.
SSU: You graduated in 3 years, with a major and a minor! Did you have a career in mind with that, to follow your baseball career?
Dillon: No, not really. I knew I could get the degree in 3 years and I wanted to finish it. I heard that Mike Mussina had done that at Stanford and I wanted to do the same. The goal was to not have to go back to school after I got drafted.
SSU: Have you noticed any big differences in how the Dodgers and Mariners run their organizations? Different emphasis points?
Dillon: Not really, the Dodgers were great to their players, took good care of them and it seems like the Mariners are exactly the same.
SSU: Obviously the AquaSox are your favorite team now. But who was your favorite team growing up?
Dillon: Whoever my dad played for. The Mariners when he was there, the Phillies when he was there…
SSU: So basically you were just a huge fan for your dad.
Dillon: Exactly. I mean, I wasn't going to root against him.
SSU: So that leads to my next question, Was he the player you tried to emulate while growing up? Or was there another one in mind?
Dillon: Well yes definitely when I was pitching. But I didn't pitch too much. I would have to say my favorite player is Chase Utley. Just how hard he played the game and the way he played it. All business and he just does everything the right way. He's a good role model, and especially when my dad went to Philadelphia, I could see him every day. He was definitely one of my biggest influences.
SSU: Did you grow up dreaming of being a professional ball player?
Dillon: For sure, I think every kid should be wanting to play in the big leagues when they're playing little league. I just kept going from high school to college to getting drafted, it just seemed like the next step each time. It's just what I always wanted to do.
SSU: What's your greatest strength you contribute to the team?
Dillon: A good teammate. I get along with everybody, and I try to practice my Spanish a bit every day with the Latin players. I'm pretty good with team chemistry and being a great teammate.
SSU: As a pitcher, there are a lot of different roles to fill. Starting, bullpen, closer, etc. Where do you envision yourself being?
Dillon: Whatever the team needs. I'm flexible. But if I had to choose, I'd say starter because that's what my dad did.
SSU: What's your favorite sports related movie?
Dillon: That's a tough one. I grew up playing hockey, so I'd have to say Miracle. The way the team comes together and wins, it's a great story.
Feel free to comment below if you have something to say and be sure to join the SSU community by liking us at Facebook at SeattleSportsUnion.
Follow us during games on Twitter @SeattleSportsU and watch us Sundays at 8:00pm (PST) on YouTube, as we discuss all things Seattle sports.