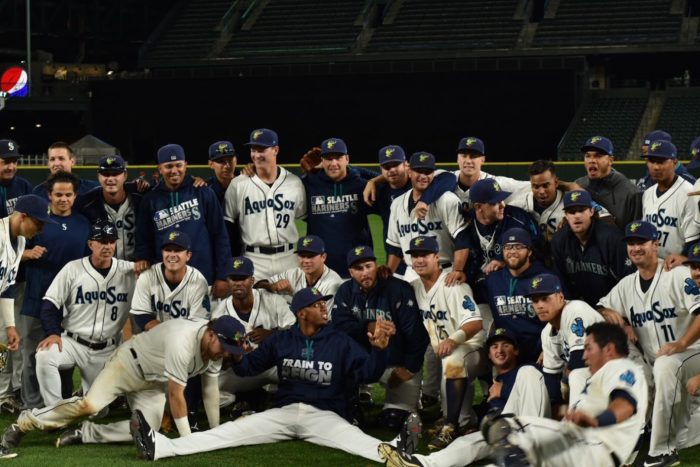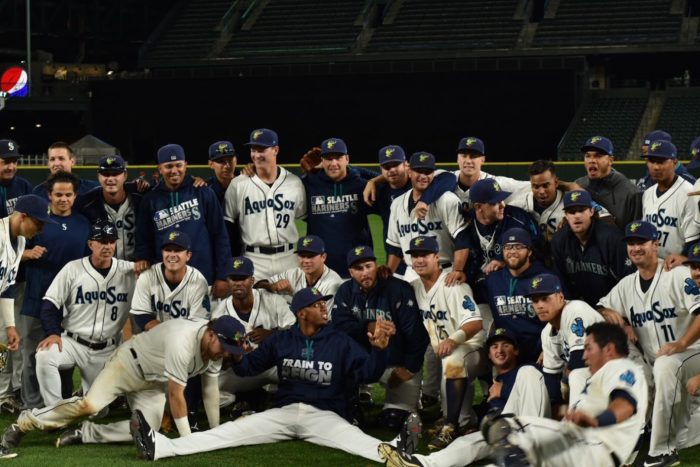 The Everett AquaSox season ended Tuesday evening in Eugene, falling to the Emeralds in game 3 of the series. It was a disappointing ending to an amazing season this year for the Sox, but they have a lot to be proud of for the 2016 season. They had some troubles in the first half, with some injuries and losing some people to promotions. But in the second half they really came together as a team and hammered the competition.
This season the staff here at SSU had the amazing opportunity to get to know these players, and the organization as a whole. We had a tremendous time, publishing items and interviews for their Game Night Programs. The front office crew is top notch and deserves some serious praise for the promotions and class on how they ran things this year. Special shout-outs go to Cameron Bloch and Danny Low, who helped guide this organization through it's first real professional press arrangement. We've had an incredible time working with them, and look forward to continuing the mutually beneficial relationship on into the future.
We're already planning on ramping up the operation next season, ensuring we get to every player on the roster. We weren't able to get to all of them this year, and those that we missed we truly regret. Everyone on the team we spoke with was incredibly nice and a treat to talk to. We heard all kinds of incredible stories and it really changed our outlook on the team. These were no longer players on the field…these were Kristian and Bryson and Austin! They were a great group of fellows and we wish them nothing but the best! We're looking forward to following their progress up the ladder all the way to Seattle.
---
That being said, I've been fairly quiet in writing over the past few months as I've focused mainly on absorbing what I've been experiencing as much as possible. As the Baseball editor, I admit this was a bit of a dream of mine growing up. The beat reporter for a small minor league baseball team always sounded like a fun job, and it truly was to experience it. I loved it so much, I just focused on experiencing it, taking notes and learning the craft of interviewing. LJay Newsome was my very first interview, and I'm reasonably certain he suspected it. It went a bit short and rough, but I wound up learning a lot, and gaining a newfound respect for interviewers. It can be difficult on the spot to come up with questions, especially for players you really don't know too much about. Major league players have a history on the record, and are easy to research, while the AquaSox players are experiencing their first 5 mins in the professional spotlight. So it's a growing opportunity for both the interviewer and the player.
In the coming weeks, I'll be posting some post-season analysis and general thoughts regarding how the season for the Aquasox went. We'll be posting the last of the interviews we were able to get, and definitely getting ourselves wishing it was next June already.
Go AquaSox! Congrats on 2016!
Feel free to comment below if you have something to say and be sure to join the SSU community by liking us at Facebook at SeattleSportsUnion.
Follow us during games on Twitter @SeattleSportsU and watch us Sundays at 8:00pm (PST) on YouTube, as we discuss all things Seattle sports.