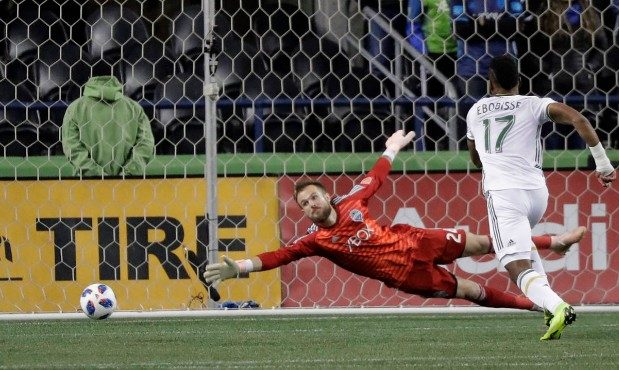 The Seattle Sounders set the record for the best ½ of a season all time. That was a great effort by the Brian Schmetzer squad and good enough a 1st round bye as the #2 seed in the MLS playoffs. Unfortunately, the Sounders arch-rivals, the Portland Timbers did as they always do and save their best games against Seattle. In the 2nd ever Cascadia playoff bout, Portland took a draw in Seattle on Thursday and won on goal kicks in goal kicks in extra time.
Thanks, JEFF JEFF JEFF. pic.twitter.com/cGPtzhYCh0

— Sounder At Heart (@sounderatheart) November 9, 2018
The Sounders got ahead on a 68th minute goal by Raul Ruidiaz. Portland's goalie came out for a save and off a ricochet, Ruidiaz found net. Unfortunately, Sebatian Blaco would hit the equalizer in the 78th minute to put the scourge of the south ahead on away goals.
Raul Ruidiaz would get a right footed shot in the 93rd minute to give the Sounders hope as the game would go to goal kicks. Unfortunately, the Timbers would score 4-3 on goal kicks and bounce the Sounders from the MLS playoff.
While the Rave Green were the superior team this night, an inspired Timbers squad took the game to them in their own hometown. While the season was a high effort inspiration, the result leave many Sounder fan wanting. The best we can wish is a great 2019, and a dismal failure to the arch-rival who schooled us here in 2018.
Feel free to comment below if you have something to say and be sure to join the SSU community by liking us at Facebook at SeattleSportsUnion.
Follow us during games on Twitter @SeattleSportsU and watch us Sundays at 8:00pm (PST) on YouTube, as we discuss all things Seattle sports.