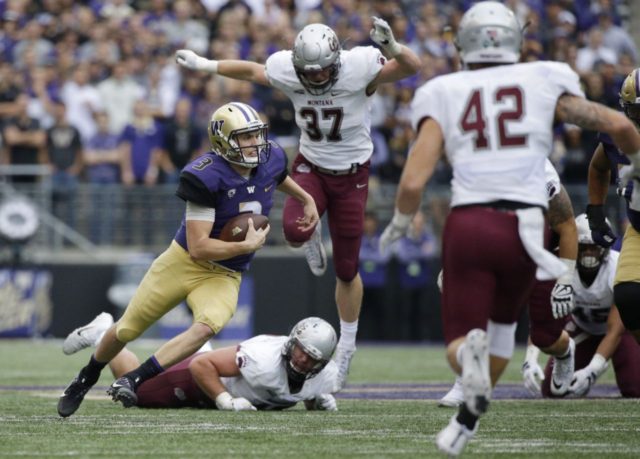 Dante Pettis sets the Pac-12 record for punt return TDs as Huskies roll Grizz
On a dead run tot he right and a cutback to the left, followed by a juke move on the punter was the recipe for a 67 yard put return for a TD by UW's Dante Pettis. The TD would break Desean Jackson's record for the All-Time lead in career punt returns for a touchdown. Pettis is just 1 TD short of setting the All-Time NCAA record held by Wes Welker (Texas Tech) and Antonio Perkins (Oklahoma).
DANTE. PETTIS.

He can't be stopped! Pettis sets a new Pac-12 record with 7 punt returns for a TD. #PurpleReign

Watch: @Pac12Network pic.twitter.com/A8rRZwC64r

— UW Football (@UW_Football) September 10, 2017
"I still don't really know what I did," Pettis said . "I just remember cutting back and making a little move on the punter; I don't even know what that move was. It was more like an avoidance than a juke or something."
This TD coupled with QB Jake Browning's 259 yard passing game powered the University of Washington to a 63-7 victory.
Browning would show some elusiveness as a runner as he ran for a career best 50 yards on 5 carries and a TD. But Jake wasn't the only guy player with unexpected offense. Left tackle Trey Adams gained 9 yards on a designed lateral pass that he nearly scored on.
"I should have scored, guys," Adams said.
"He broke a lot of hearts tonight. A lot of linemen across the country were very sad that he didn't get into the end zone," Petersen said
https://twitter.com/UW_Football/status/906739355045072897
Feel free to comment below if you have something to say and be sure to join the SSU community by liking us at Facebook at SeattleSportsUnion.
Follow us during games on Twitter @SeattleSportsU and watch us Sundays at 8:00pm (PST) on YouTube, as we discuss all things Seattle sports.