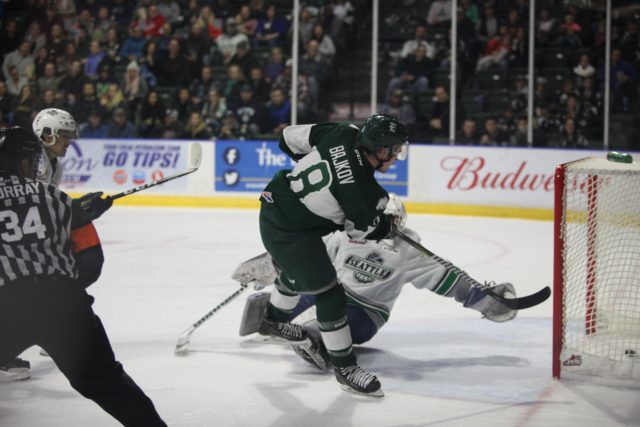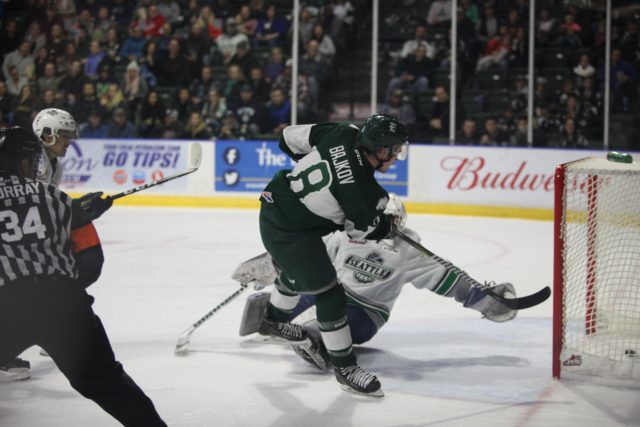 The Everett Silvertip's Patrick Bajkov scored a short-handed goal in the 2nd period to unleash a flurry of scoring to give the Tips a 3-2 victory over the hated rival, Seattle Thunderbirds.
Kevin Davis was sent off the rink for a slashing penalty at the 12:10 mark leading to a Seattle power play. Bajkov would find himself defending an oncoming T-Bird assault, when he would strip the Seattle attacker of the puck and skate the length of the rink on a breakaway to score a game tying goal.
The left winger's goal would place him 2nd all-time on the Silvertips points list with 218 points (90 goals and 128 assist). He chases an original Silvertip, Zach Hamill (2003-2008) who had 262 points.
Bajkov leads the Tips in goals (11) and assists (19) this season. Drafted by the Tips in 2012, Bajkov got his shot at the NHL this summer making it to the Vegas Gold Knights training camp. While he did not get attached to a team quite yet, expect this star in his 5th season to get more looks around the league.
Of note: Carter Hart leads the WHL in Goals Against Average at (1.82 per game) and save percentage (.941). The 2016-17 Del Wilson Trophy (WHL Top Goaltender) winner was scored on twice on Friday night, but held off a flurry of attacks and would hold off 29 of the 31 Seattle shots on target.
Feel free to comment below if you have something to say and be sure to join the SSU community by liking us at Facebook at SeattleSportsUnion.
Follow us during games on Twitter @SeattleSportsU and watch us Sundays at 8:00pm (PST) on YouTube, as we discuss all things Seattle sports.