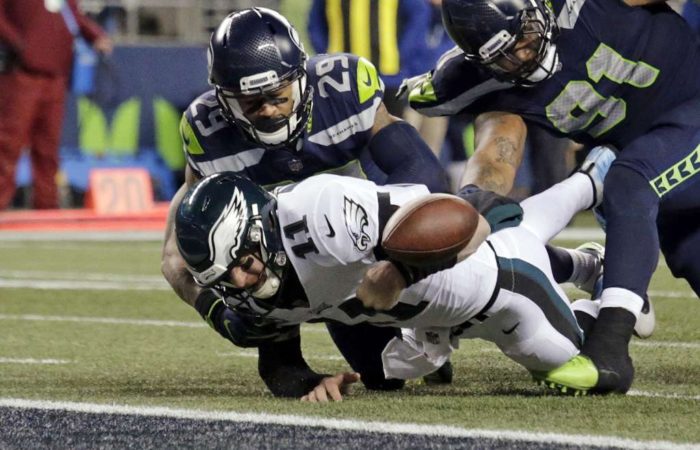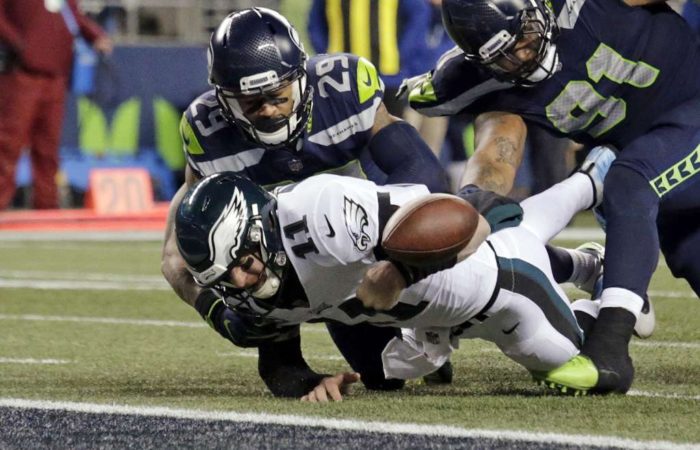 Was that the 10-1 (now 10-2) Philadelphia Eagles team we've all heard so much about playing against the Seattle Seahawks (8-4) on Sunday Night Football? Because if so, Seattle just asserted itself as the team to beat in the NFC. And it's not even close. (Ok, maybe the Vikings have a claim to that thrown, but for sake of argument…)
Does this victory make you feel better now Seattle fans about the fate of your Seahawks team? Coming into this game there was much talk that the Eagles would win because the were the more complete team. So much for that.
What the nation learned tonight is that Russell Wilson should be given the NFL MVP award when the regular season ends. Especially if things continue like they are.
No other player in the league contributes more to his team's success than Wilson, and he did it again Sunday night as he out-dueled his counterpart and national choice for MVP, Carson Wentz.
Wilson was once again his masterful self as the QB tossed three TD passes to go with his routine 227 yards in the game on 20 of 31 completions. Wilson was sacked twice and chased out of the pocket a handful of other times. Usually those rollouts resulted in key pass completions down field to sustain drives.
Tight end Jimmy Graham caught his league-lead tying ninth TD pass of the year, an 11-grab at the goal to give Seattle a 10-0 lead after successful Blair Walsh extra-point.
Carson Wentz found no traction during the game thanks to the harassment of the Seahawks' defense, and after 45 attempts, completed 29 for 348 yards. Sure that sounds impressive but most of those yards came on a few chunk plays at various times during the game.
Most impressively was the 3-and-13 conversion to start the fourth quarter as Wentz was flushed from the pocket and as the QB was being dragged to the ground managed to chuck a 51-yard pass down the field to an awaiting Nelson Agholor. That was special. But not enough.
Wentz tossed for one score and threw one interception late when trying to lead his team back.
Linebackers K.J. Wright, Bobby Wagner and safety Bradley McDougald combined for 35 tackles in the game and three for loss.
Defensive end Frank Clark sacked the Philly QB twice and even though the Eagles totaled 425 combined yards in the game, the contest was never that close. Seattle led from the wire after an opening 12-play drive that ended with a Blair Walsh 46 yard field goal giving the Seahawks a 3-0 lead.
Seattle combined to rush for 101 yards with Mike Davis leading the way with 16 carries for 64 yards. Davis looks to have assumed the lead running back role as long as he can stay healthy.
Next up
The Seahawks take to the road for a very tough game across the country down in sunny Florida when they face the upstart Jacksonville Jaguars (8-4) who field the league's top defense in total yards allowed (3100)  and scoring 15.6 points-per-game.
Jacksonville is winners of 5-of-6 games and should have beat the Cardinals last week if not for some questionable play calling.
Seattle will need to be ready for this challenge and once again rise-up to play their best football if the Seahawks want to remain in the playoff spot they hold now.
in turn, the Eagles head to LA to face the NFC West division leading Rams. After that it's a head-to-head matchup for the Rams and Seahawks back in CenturyLink Field most likely for the division lead two weeks from now.
Only four games to go and much is left to be decided in the NFC.
Feel free to comment below if you have something to say and be sure to join the SSU community by liking us at Facebook at SeattleSportsUnion.
Follow us during games on Twitter @SeattleSportsU and watch us Sundays at 8:00pm (PST) on YouTube, as we discuss all things Seattle sports.