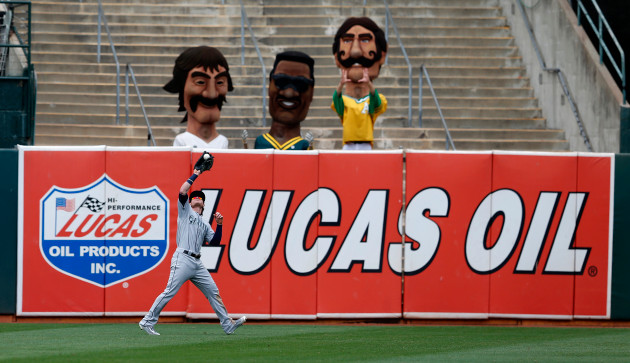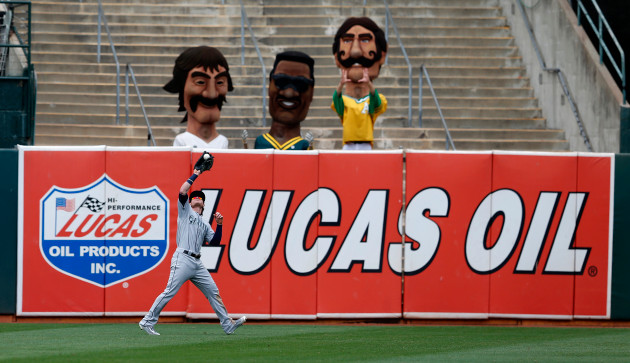 A quick sweep of A's sees Mariners in swipe a Wild Card position
It wouldn't necessarily be easy but back-to-back victories over the Oakland Athletics saw the Mariners steal the 2nd spot of he Wild Card out from under Kansas City and Tampa Bay. This series is a tune up for an all-important 4 games series against the surging LA Angels.
| | | |
| --- | --- | --- |
| Aug 8 | Oakland | 7 – 6 |
| Aug 9 | Oakland | 6 – 3 |
Both games saw heroics with the bat.  On Tuesday, a 10th inning home run by Leonys Martin saw the Mariners win a game where they were down by 4 runs in the 5th. Martin has struggled since he came up a couple weeks ago, replacing an injured Mitch Haniger, but with clutch hitting and outstanding defense, he could be a solid stopgap while Haniger heals.
Wednesday's game would see more of the longball as Kyle Seager would knock a 3 run dinger and Boomstick himself, Nelson Cruz, would nail not one, but two 400+ foot home runs to put the M's over. Hopefully, this carries Seattle to the Wild Card as injuries in the pitching staff will deem high scoring as a necessity.
Pitching problems
The King, Felix Hernandez has landed himself on the 10-day Disabled List yet again. Bursitis in his pitching arm will see him take a seat for about 4 weeks. This comes as a huge blow for the M's as they could use his skill and experience in this playoff run.  The former Cy Young Award winner, is just -4 with a 4.28 ERA here in 2017. While that doesn't seem too significant, he is the best the Mariners have behind left-hander James Paxton.
To compound issues, Dave Phelps has also found himself on the DL with elbow prolbems. The 30 year old is 3-5 on the year with a 3.33 ERA and 1.30 WHIP. However, he has looked amazing in just a couple of relief appearance.  As well, he has struck out 62 batters in 54 innings while converting 21 holds (mostly with the Marlins). The Marlins traded Phelps to Seattle in July in exchange for four prospects.
"The last couple of times out, I just really haven't gotten loose like I have in the past," Phelps told reporters afterward. "As far as getting loose out of the bullpen, it is fine, but as soon as I get in the game it's a little tight. I can tell the ball just isn't coming out and my stuff hasn't really been the same. In the past, I've pitched through things until I broke my arm. I thought it was better to let (trainers) come out. They've known about it and we've been treating it."
Promoted from the minors is Marco Gonzales. Gonzales was acquired in a July 21 trade with the St. Louis Cardinals for Tacoma outfielder Tyler O'Neill. The former Gonzaga Bulldog went 2-0 with a 4.50 ERA in two starts with Tacoma.
His nickname is
You know about Boomstick and the King, check out these other nicknames as August 25-27 hosts "players weekend." Nicknames will be allowed for all MLB players and it looks to bring back some fun to the often stuffy American Past-time.
Big Maple. Boomstick. Don't You Know.

The nicknames come out for #PlayersWeekend, Aug 25-27. https://t.co/nNG5hO15Wd pic.twitter.com/COXwNiM0gO

— Mariners (@Mariners) August 9, 2017
Kyle Seagar is an All-Star, unfortunately so is his younger brother Corey who plays for a larger market (LA Dodgers) team. Kyle decided to mock himself while putting down Corey in the process by taking the nickname "Corey's brother."
Seager said, in regards to Corey not picking a nickname for the weekend at all,
"He's boring. You've got to do better than that. If you're going to play that good then you gotta do something."
Standings
| | | | | |
| --- | --- | --- | --- | --- |
| Wild Card Teams | W | L | PCT | WCGB |
| NY Yankees | 60 | 52 | .536 | +2.5 |
| Seattle | 59 | 56 | .513 | – |
| Kansas City | 57 | 56 | .504 | 1.0 |
| Tampa Bay | 58 | 57 | .504 | 1.0 |
| Minnesota | 56 | 56 | .500 | 1.5 |
Feel free to comment below if you have something to say and be sure to join the SSU community by liking us at Facebook at SeattleSportsUnion.
Follow us during games on Twitter @SeattleSportsU and watch us Sundays at 8:00pm (PST) on YouTube, as we discuss all things Seattle sports.