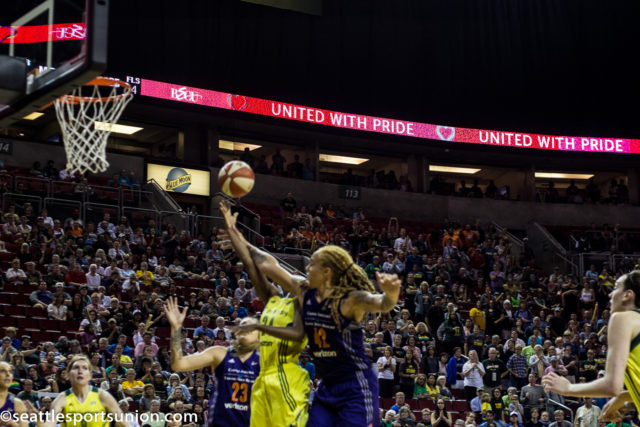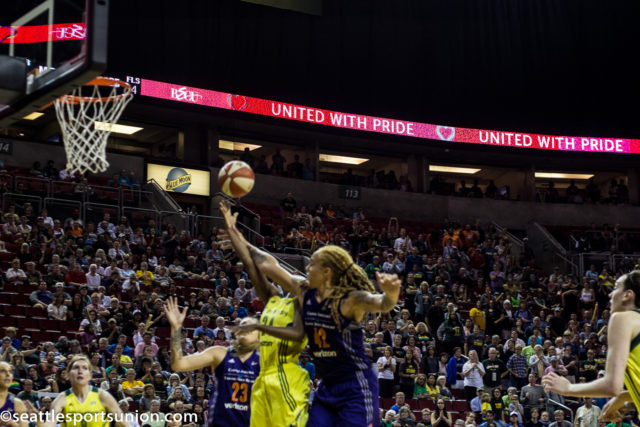 Storm lose at the buzzer, drop to .500 losing to Mercury 85-82
A late game miscall by the refs, saw center Crystal Langhorne cited her 6th personal foul and removed from the game. On in play, with just 3 minutes left, Langhorne wrestled the ball away from the Mercury players and rather than earn a jump ball, as it should have clearly been called, she was called for her 6th personal foul and had to lead the game. Langhorne had been on fire with 16 points on the game, but without her, the Storm succumbed to the much larger Mercury frontline, losing 85-82.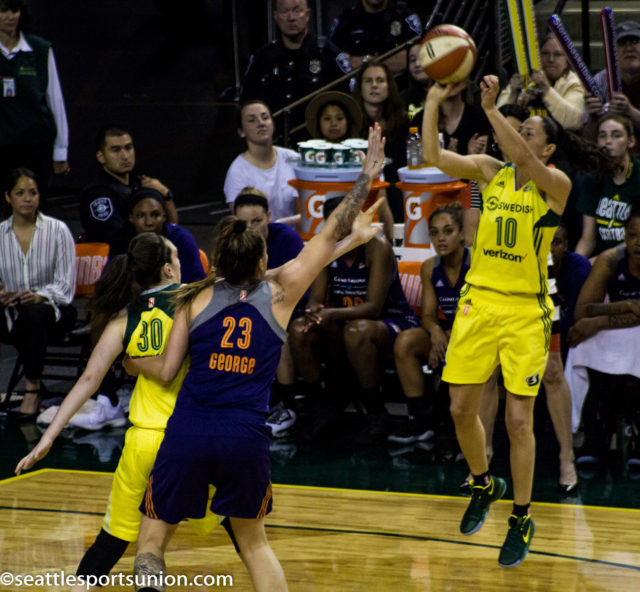 Langhorne battled the 6'9 Mercury center, Brittney Griner all game, but Griner's size would see her score 25 points including a dunk in the 4th quarter. All-time WNBA points leader Diana Taruasi would also drop 25 points in this game.
This was a hard fought game, a game that saw Jewell Loyd score 10 points in the 3rd quarter to bring the Storm back in the game. Loyd would finish with 18 points and 6 assists.  It would be forward Breanna Stewart who would live up to here pedigree though. The former NCAA legend would score 21 points  (9-12 free throws) and pull down 8 total rebounds.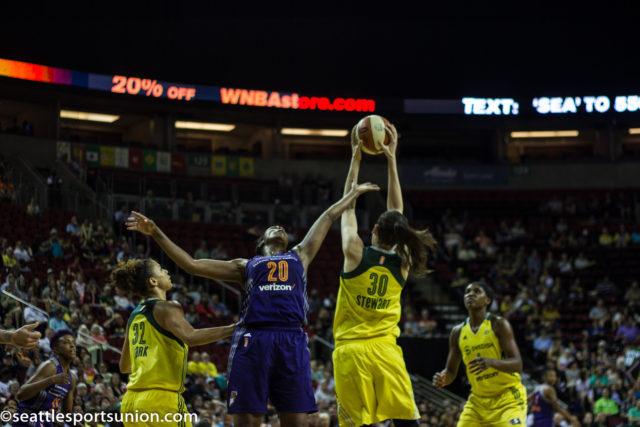 While the result of the game did not please the hometown fans, the festivities light the stadium on fire. It was Pride night at the Key and we got to see Cleveland Cavalier's Kyrie Irving at courtside. But he wasn't the only legend on hand. Soccer hero Megan Rapinoe appeared in a free throw shooting contest this evening (she won).  As well, we got to see an appearance of the Seattle Mayor Ed Murry.
Of particular interest, was something that I had never seen before a ½ time dance party at center court. Sassy Black DJ'd while all the fans were encouraged to come to the court and dance. I have to hand it to the Storm and congratulate them on doing something different to encourage fan participation.
FINAL
PHO
22
28
23
12
85
SEA 
21
22
24
15
82
Notes courtesy of seattlestorm.com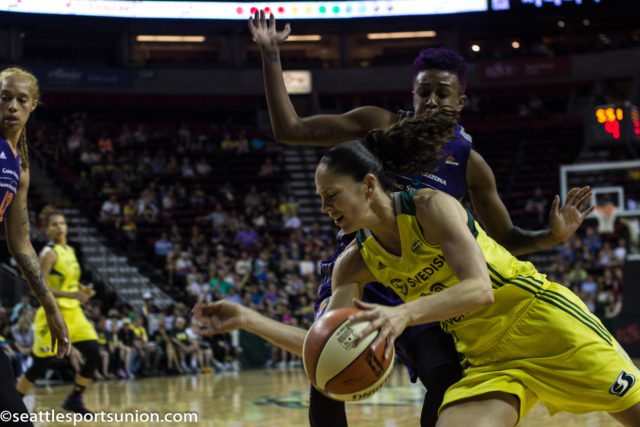 In two wins against the Mercury last year, Jewell Loyd led the way for the Storm by tallying 32 and 30 points.
Seattle split with Phoenix in the 2017 preseason slate, claiming an 86-64 win at home before dropping a 72-55 decision on the road. Sami Whitcomb and Carolyn Swords led the Storm in game one with 15 points apiece.
The largest Storm win came 15 years ago in Sue Bird's rookie season, when the Storm bested Phoenix by 41 points (89-48) on July 19, 2002.
On May 20, 2016, Jewell Loyd recorded each of the Storm's final 10 points, including the go-ahead jumper with 2.9 seconds remaining, to overcome a seven-point deficit with just over three minutes left in the game. The Storm won 81-80 thanks to Loyd's 30-point effort.
The Storm dropped nine in row to the Mercury between 2014-15
Feel free to comment below if you have something to say and be sure to join the SSU community by liking us at Facebook at SeattleSportsUnion.
Follow us during games on Twitter @SeattleSportsU and watch us Sundays at 8:00pm (PST) on YouTube, as we discuss all things Seattle sports.